Ductless Hyper Heating & Cooling
It is no secret that we love our Mitsubishi ductless systems but do you know why and what the benefits of this system are?  We wanted to take a moment to help you understand why this system is so incredibly amazing and why it is worth all the fuss and your attention (and consideration).  So, without further ado, we present you the Mitsubishi Ductless Hyper Heat system!
Why Hyper Heating Should Be On Your Want List
We all know that weather in the capital region of New York state means blistering cold.  This is the time that you want heat and you want it fast!  Your current primary heating source may not be "up to snuff" in heating your entire home and keep your family comfortable.  It is a common complaint that we hear that one room is sweltering hot while another is frigid.  This amazing system can help you to supplement your existing oil, gas or wood system.  The very best part?  This hyper heat system will work at peak efficiency until -13 degrees Fahrenheit because of new cold-climate heat pump technology advances from Mitsubishi.  That is right, this system is designed to keep you comfortable all year round, especially in those winter months!
Hyper Heat v. Conventional Heat Pumps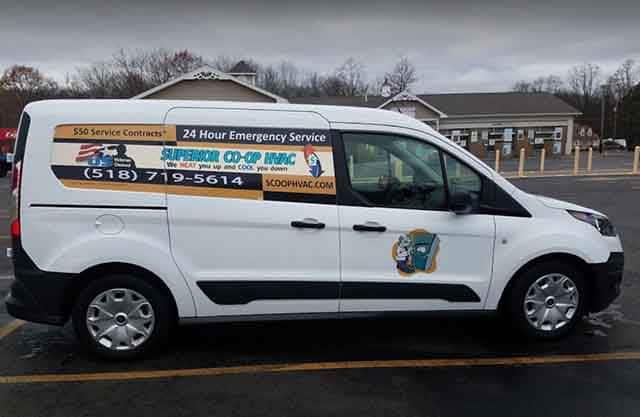 Since their inception, split-ductless heat pumps have solved a major problem for those in temperate regions of the country.  The systems that feature both an indoor and an outdoor unit allowed these people to cool and heat their homes minus the inefficiency, hassle, and expense associated with a traditional furnace, stove and other traditional methods.  But how do they work?!  Well, a heat pump uses refrigerant to transfer heat.  In the summer these same pumps extract the warmth from inside and transfer it outside.  Pretty normal stuff and a process that you are already familiar with.   In the winter they absorb warmth and transfer it inside.  Yep, warmth from outside.  In the winter.  It's possible, bear with us!
The pumps we just described have been known to leave you in the cold during winter.  Until now!  The Mitsubishi is designed for our colder climate.  Unlike the traditional models that cannot handle extreme temperatures due to refrigerant has not worked as efficiently in the sub-zero weather causing the pump to not be able to bring in enough heat.  The Mitsubishi Hyper Heat system will work at 100% efficiency down to 0 degrees Fahrenheit, and from there to -13 degrees Fahrenheit it will work at 76% efficiency.   This means that you will keep and maintain your current heat source for those few times a year our outdoor temperature dips below -13.  What does this mean?  Increased savings from your heating bill!!
What Other Benefits Can You Expect?
Year-round comfort- the hyper heat INVERTER technology uses an enhanced compressor that will allow it to deliver comfort down to -13° F.  So when Mother Nature decided to freeze us, you will be inside your home all snug and warm!
Efficiency- these systems qualify for the ENERGY STAR Tier 2 rating.  This is tech speak saying that this ductless system goes above and beyond ENERGY STAR's minimum requirements for efficiency.
Cost Savings- if you pay for oil, propane or gas, you know that these methods of fuel-based heating can be costly.  This is especially true when the extreme cold drives these prices up!  We are seeing up to 75% savings off from our customers heating bills already!  In addition, choosing to add this system to your home may also qualify for tax incentives, rebates or other programs.
Room-by-room comfort- If one family member likes it hotter in their room than anyone else in the home, they can enjoy extra heating without making the rest of the family swelter! In addition to helping you to be able to heat (or cool) rooms that your existing system may not be able to reach with any type of efficiency.
Convenience- this awesome system typically takes about a day to install from start to finish.  That's it!  No messy ductwork, no damage to your home or it's structural integrity and no WEEKS of dust and invasion of your home by our techs!  These systems also work seamlessly with your existing climate control system.
As you can see, these systems adapt to meet the ever-changing needs of your home and all the people in it.  You will enjoy year-round comfort no matter what it's doing outside.  As a bonus, when you install this system for your heating, you will also be able to enjoy air conditioning as well.  No extra equipment or expense added!
Did we mention the very best part of these systems? Superior Co-Op HVAC are NYSERDA, National Grid, NYSEG and Central Hudson approved installers!  What this means for you, we are a recognized and approved installer to provide qualified energy-efficient Mitsubishi Hyper Heat Pump Mini Splits to be installed in homes or businesses for rebates.  Superior Co-Op HVAC will pass these rebates instantly to you, by taking the amount off your installation. You will enjoy up to $1000 to $1500 per 10,000 BTU off your installation of a Mitsubishi Hyper Heating System that meets 90% – 120% of your heating load. Many customers are already enjoying the savings off their utility and heating bills as much as 75%.
If you are ready to make the jump and save money, feel free to fill out the form below!
What is Hyper Heat?
Hyper Heat is a new home heating system designed by Mitsubishi. Hyper Heat is a heat pump system, but it adds an exclusive Inverter technology that allows it to maintain its efficiency when temperatures drop, all the way down to -13 degrees Fahrenheit.
Is Mitsubishi hyper heat worth it?
It's more efficient (SEER Rating) while heating down to -13° F, and it's also energy star rated. If you're in a climate where extreme low temperatures are common, Mitsubishi's FH hyper–heat technology is probably a good fit for you.
Are mini splits good for heating?
Offering higher efficiency ratings than boiler-based systems, ductless heat pumps cost less to operate by maximizing the amount of heat generated from the energy consumed, so a ductless mini–split is not only an energy efficient air conditioner, it's also one of the most effective and energy efficient heaters out there.
What is Mitsubishi H2i?
Mitsubishi Electric has introduced Hyper-Heating INVERTER® (H2i) technology, a significant advance in heat pumps. H2i uses an enhanced compressor system to deliver heat even when outdoor temperatures are as low as -13° F. … Hot-Start technology provides warm air instantly.
Is Mitsubishi a good heat pump?
During the last five years, Mitsubishi has always been the #1 top rated and most popular ductless heat pump in U.S. for both residential and commercial using. Now it is time to look into this brand and confirm if it is more proper for your home compared to traditional ducted units and other brands.

Being awarded Mitsubishi Diamond Contractor Elite status is the highest status one can get. This indicates that Superior CO-OP HVAC is one of the most experienced and trust worthy  Mitsubishi contractors in the area. If you want more confidence in our ability quote, install, maintain and provide ongoing support, just look at our Google reviews.