New Technologies in Heating and Cooling
Save 40% on Heating & Cooling
The Advantages of ENERGY STAR Certified Ductless Heat Pumps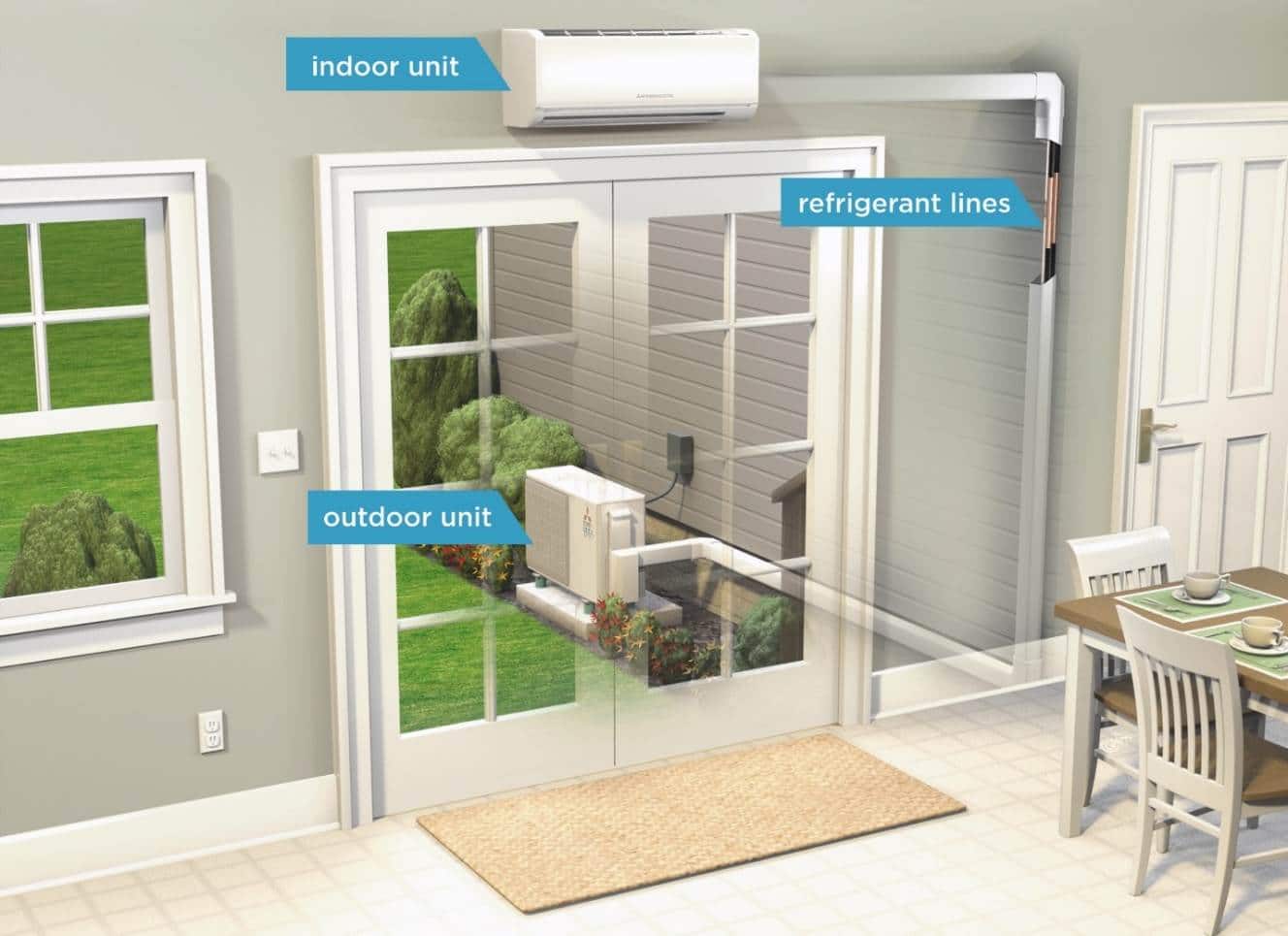 Used for decades in Europe and Asia, "ductless" mini-split heat pumps differ from traditional home heating and cooling systems by:
Providing both heating and cooling through a single device – a heat pump. Heat pumps have been used, mainly in Southern climates, for decades.
Avoiding ductwork.  Instead of difficult-to-install, leaky and bulky ductwork, ductless mini-split heat pumps use an indoor unit connected to an outdoor unit via refrigerant lines (which only need a three-inch hole in an outdoor wall for installation).  Up to 8 indoor units can be attached to one outdoor unit.
Allowing for Different Climates for Each Room. Each indoor unit can provide customized heating and cooling — adjustable through wall consoles, remote controls and smartphone apps — in each conditioned space.
Cutting heating costs in half compared to conventional electric heating systems.  Because they transfer instead of generating heat, ENERGY STAR certified ductless mini-split heat pumps use 60% less energy than standard home electric resistance-based heating systems.
Cutting cooling costs by 30% compared to conventional room air conditioners.  ENERGY STAR certified ductless mini-split heat pumps use more sophisticated compressors and fans that can adjust speeds to save energy.
Ductless mini split heat pumps are increasingly being used in these situations:
Common Applications of Ductless Heat Pumps
Homes with costly electric heat (e.g., baseboard; furnace; wall heaters; electric radiant) that will also benefit from cooling.
Older homes with no ductwork (e.g., radiators or baseboard heat) that never had central air conditioning before.
Homes with expensive central heating systems due to high fuel costs or low system efficiency.
Additions or outbuildings (e.g., shed, barn, garage) where extending ductwork or cooling/heating capacity is not feasible.
Rooms that are not regularly occupied (indoor unit can be turned off to save money).
Spaces adjacent to unconditioned spaces where ductwork would be exposed to harsher temperatures (e.g., a guest room above a garage).
New construction of homes in areas with high fuel costs.
Older commercial buildings with no existing ductwork for air conditioning or expansions.
Further Developments – Cold Climate Heating, Alternative Indoor Units
In the past, people worried whether heat pumps were good at providing heat in cold climates.  As temperatures drop, the heat pump must work harder and harder to extract heat from the outdoor air.  Our heat pumps now utilize advanced compressors and refrigerants that allow for improved low-temperature performance.
Another concern may be the aesthetics of the relatively large indoor floor or wall mounted units.  U.S. consumers, accustomed to having heating and cooling delivered from barely noticeable vents in walls and ceilings, can sometimes find the look of the indoor wall or floor mounted units unappealing.  Our Ductless systems offer ceiling-recessed and short-run horizontal, duct-based air handlers, to provide a look some U.S. homeowners are more comfortable with. In fact love!
ENERGY STAR certified ductless heating and cooling systems are eligible for rebates from local utilities — up to $1,000 per unit depending on what system is being replaced.
Conclusion
In the summer, a heat pump uses a refrigeration cycle to move heat from your home to the outside just like an air conditioner.  In the winter, with the refrigeration cycle run in reverse, a heat pump moves heat from the outside into your home.
Contact us instantly!
Schedule repair/service or free estimate below
Don't Wait! Winter Starts in:
Contact Us for Free Estimate and Information
2531 State Route 22
Cambridge, NY 12816