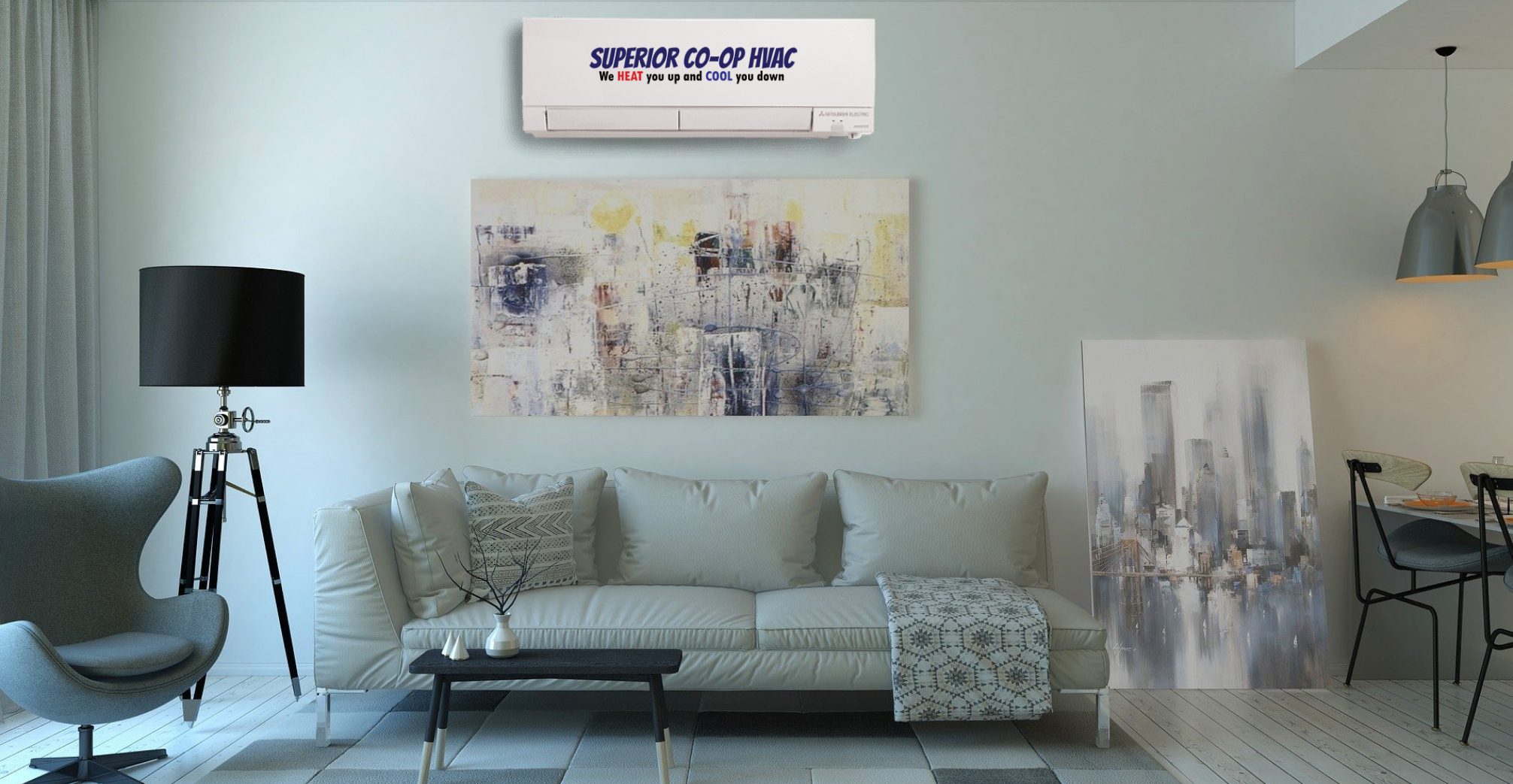 Ductless Mini-Splits/Air Source Heat Pumps/Mitsubishi Hyper Heat
Functions as an All-In-One System for Heating & Cooling Ductless Mini-Split HVAC
Quotes, Repairs & Service
What Will Mitsubishi Ductless/Mini-Splits Add For Me?
We believe that Ductless HVAC is the modern savior we are all looking for.  Besides the reduced energy cost that comes with owning a ductless mini split you can:
Heat or cool that room or addition that is never the right temperature
Fire that bulky window unit that is all noise and inefficiency that blocks your view outside
Add modern comforts to your older or historic home without changing it's outward appearance
Introducing HYPER HEATING – Ask us about it!
Save up to 75% on Heating & Cooling
How Does Zoned Control Benefit My Home?
All dwellings are uniquely designed. Due to wall location, various floors, and a variety of angles, it is sometimes impractical to heat and cool every room in a house with a single thermostat. With many zones, each region is governed independently. You may keep some rooms or whole regions colder or warmer than others, therefore reducing your energy expenses. A collaboration between Superior Co-Op and Mitsubishi Electric ductless mini split may allow you heat or cool exactly the areas you choose and only when you want them to be heated or cooled. No more wasting energy heating or cooling the whole home simply to make one area pleasant.
Mitsubishi ductless systems are approved by ENERGY STAR!
FINANCING AVAILABLE:
0% INTEREST 18 MONTHS W/ EQUAL MONTHLY PAYMENTS
With payments as low as $62.50 per month
Mitsubishi
Proudly serving Albany, Saratoga, Washington County & the entire surrounding areas!
Suggested Product
What is Ductless / Mini Split Heating and Cooling?
What are Ductless Cooling and Heating Systems? As suggested by the name, ductless cooling and heating systems work without any ductwork being involved. These systems consist of two separate units: an outdoor compressor and an indoor evaporator. The most common type of ductless systems is wall-mounted mini-splits.
Ductless mini-split systems are energy efficient air conditioning and heating options, environmentally friendly and completely customizable. They offer homeowners the ability to heat or cool specific zones of their home to the exact temperature they desire, providing consistent and exceptional year-round comfort.
5 REASONS TO CHOOSE DUCTLESS MINI-SPLIT HEATING AND COOLING SYSTEMS
Most people are familiar with mini-split heat pumps and mini-split ductless heating and cooling systems. You may have seen the little interior gadgets mounted high on the walls of houses, restaurants, and offices. But what is your true understanding of mini-split systems?
5. Ductless Air Conditioning Lowers Your Carbon Footprint
The tiny size and zoning capabilities of a ductless mini-split heat pump provide improved energy efficiency. Mini-split heating and air conditioning systems adhere to ENERGY STAR rules, which means they are far more energy efficient than federal minimum standards. Enhanced efficiency saves money, but it also reduces your entire carbon footprint.
Additionally, ductless mini-split systems use improvements in chemistry to lessen their environmental impact. Ductless systems use the refrigerant R410A, which is renowned for having negligible ozone depletion potential. Consequently, the system will have a less environmental effect over its lifetime.
Efficiency
Mini-split ductless air conditioning and heating systems are energy efficient, ecologically friendly, and entirely adjustable. They provide homeowners the power to cool and heat particular zones of their house to the precise temperature they choose, giving year-round comfort that is constant and excellent.
HOW A DUCTLESS HEAT PUMP CAN SAVE YOU MONEY AND ENERGY?
Despite not being a new technology, ductless heat pumps are gaining popularity fast in the United States, and why not? A ductless heating and cooling system may save energy expenses by 30 to 40 percent compared to a forced air system. They are the most popular option for newly built homes and extensions, as well as homes with no existing ducting that use radiator or electric baseboard heating.
If this describes your house, consider how a ductless heat pump system might reduce your energy bills. The same unit provides both heating and cooling. If you want to add energy-efficient air conditioning to an older home with an outdated boiler producing radiated heat, you can kill two birds with one stone by converting to a ductless heat pump system that provides both cooling and heating in a single unit.
An air conditioner transfers heat from the inside to the outside. Heat pumps are energy-efficient air conditioners that operate by reversing the flow of refrigerant. Combining the functions eliminates the need for a separate system, creating one of the greatest heating and cooling systems available on the market today. And modern hyperheating systems deliver dependable heat even when the temperature outside is below freezing.
DUCTLESS HEAT PUMPS ARE SIMPLE TO INSTALL AND MANAGE
A simple ductless cooling and heating system consists of two interior and outdoor units, which is why it is commonly referred to as a split-ductless system or a mini split system. Together, they occupy far less area than comparable conventional home comfort systems. The refrigerant lines supply the space's heating and cooling energy considerably more effectively than air ducting can.
Up to 30 percent of the energy used by forced air systems is wasted by forcing dense, cold air up large, broad ducts throughout the whole home. Ductless heat pump systems, on the other hand, depend on thin refrigerant pipes to transport heating and cooling energy to small interior units, enabling you to conserve energy by providing air to the room more efficiently.
SAVE ON ENERGY WITH ZONE-BASED COOLING AND HEATING
Split-ductless systems and mini-split systems may use as many as eight distinct interior air-handling units per exterior unit. This allows for eight distinct rooms or zones, each with its own controller. You may save a substantial amount of money and energy by delivering less heat to your home's less-used rooms. Consider acquiring two ductless outside multi-room systems for bigger houses to increase cooling and heating across the whole property. The additional expenditures will be more than offset by energy savings and green heating and cooling, which will minimize your carbon footprint on the environment.
THE "GREENER" THE HOUSE, THE BETTER THE SAVINGS
Green heating and cooling reduces energy consumption, but to maximum energy savings, you must safeguard the building envelope. You must ensure that your home has sufficient insulation and that any window, door, and attic air leaks have been sealed. It would not make much sense to acquire and install a new heating and cooling system if the energy savings it provides would just escape the home.
This is particularly true in colder regions, where the ductless heat pump must work harder to maintain a comfortable temperature throughout the winter. If you are intelligent enough to employ this sophisticated technology, you must also be intelligent enough to make your home as environmentally friendly as possible in order to maximize its benefits. The greatest thing is that you won't have to forgo one of the top heating and cooling systems on the market in order to have an environmentally friendly heating and cooling system.
HOW DOES AN ENERGY REBATE PROGRAMS WORK?
Energy-Efficient Technologies May Earn Rebates Investing in modern home technology is justified by its utility, efficiency, and energy savings. However, the use of energy-efficient technologies may also earn you additional money via local, state, and federal energy rebate programs. These refunds are available in a variety of forms, including property and sales tax exemptions, loans, and grants.
There are tens of thousands of similar initiatives in the United States, but they are seldom marketed or well acknowledged. When contemplating home technology updates, it is beneficial to do a little study on these applications. Here are a few instances of what you might expect to discover.
Federal Residential Renewable Energy Tax Credit
This is a personal tax credit for solar electric systems, solar water heating systems, fuel cells, modest wind energy systems, and geothermal heat pumps. A taxpayer may claim a credit equal to 30 percent of eligible expenses for a system that serves their U.S. home.
Energy Efficiency Improvements Property Tax Exemption – State of New York Covering water heaters, furnaces, central air, programmable thermostats, solar heat, photovoltaics, geothermal heat pumps, and more, this program exempts the homeowner from 100 percent of the value added to the property by the upgrades.
There are hundreds more rebates and incentives for energy efficiency like these available nationwide. The DSIRE(link is external) Database of State Incentives for Renewables and Efficiency is a fantastic location to begin your search. You should maximize the benefits of your choice to become energy efficient.
| | |
| --- | --- |
| Sunday | Closed |
| Monday | 7:30 AM - 4:30 PM |
| Tuesday | 7:30 AM - 4:30 PM |
| Wednesday | 7:30 AM - 4:30 PM |
| Thursday | 7:30 AM - 4:30 PM |
| Friday | 7:30 AM - 4:30 PM |
| Saturday | 7:30 AM - 1:00 PM |
Why install Ductless Mini-Split?
The primary benefits of mini-splits are their compact size and adaptability for cooling different rooms. Multiple versions may link up to four indoor air handling units (for four zones or rooms) to a single outdoor unit. The number depends on how much cooling the structure or each zone need.
Is a Ductless Mini-Split worth it?
Are mini-split systems an investment worth making? Briefly, the answer is yes!
What are Ductless Mini-Split systems?
In its most basic form, a ductless mini split system consists of an outside unit and an inside unit linked by refrigerant tubing and electrical cabling. The indoor unit is often wall-mounted and distributes heated or cooled air directly to the living area without the need for ducts.