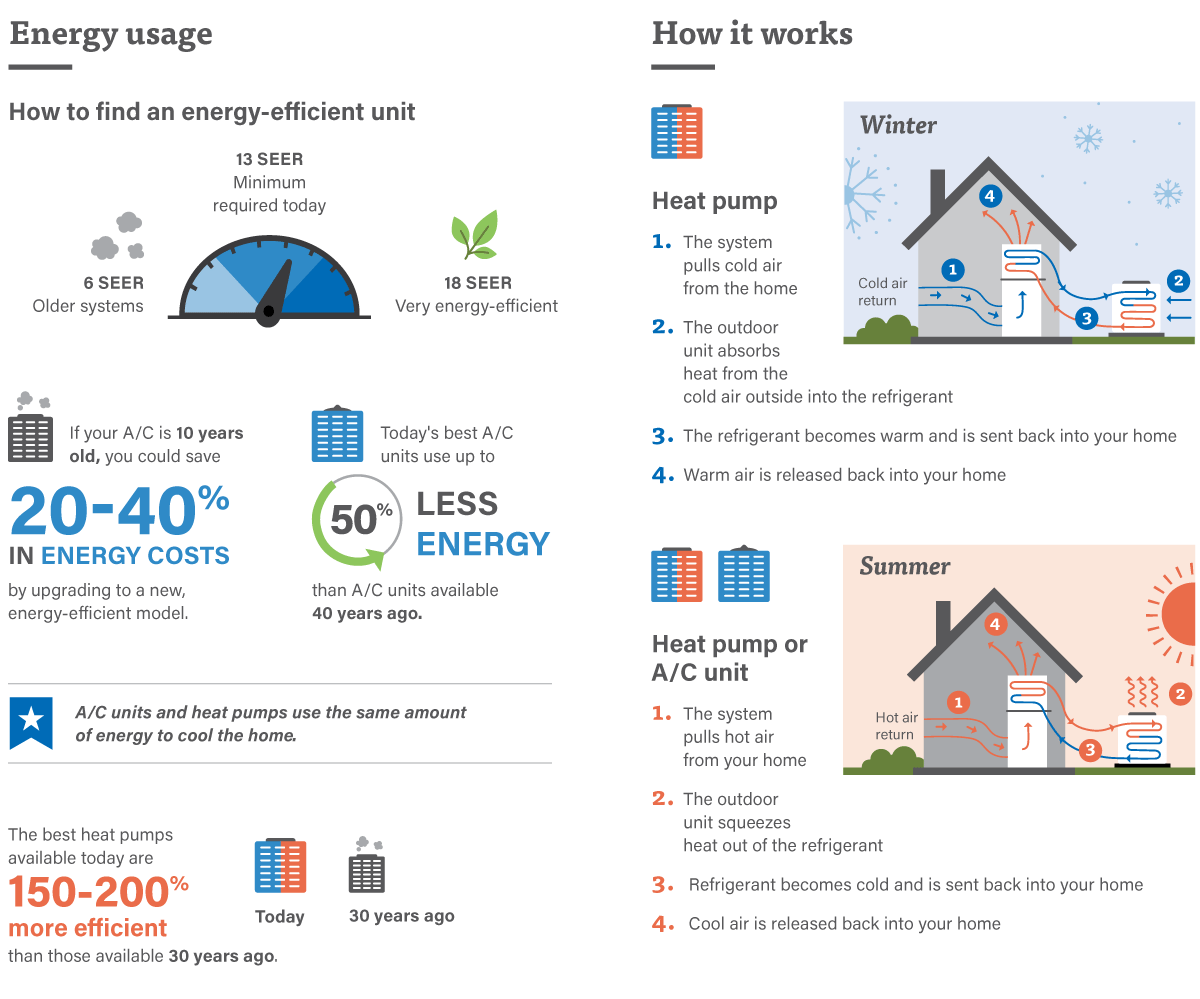 Heat Pump Common Objections
September 8, 2022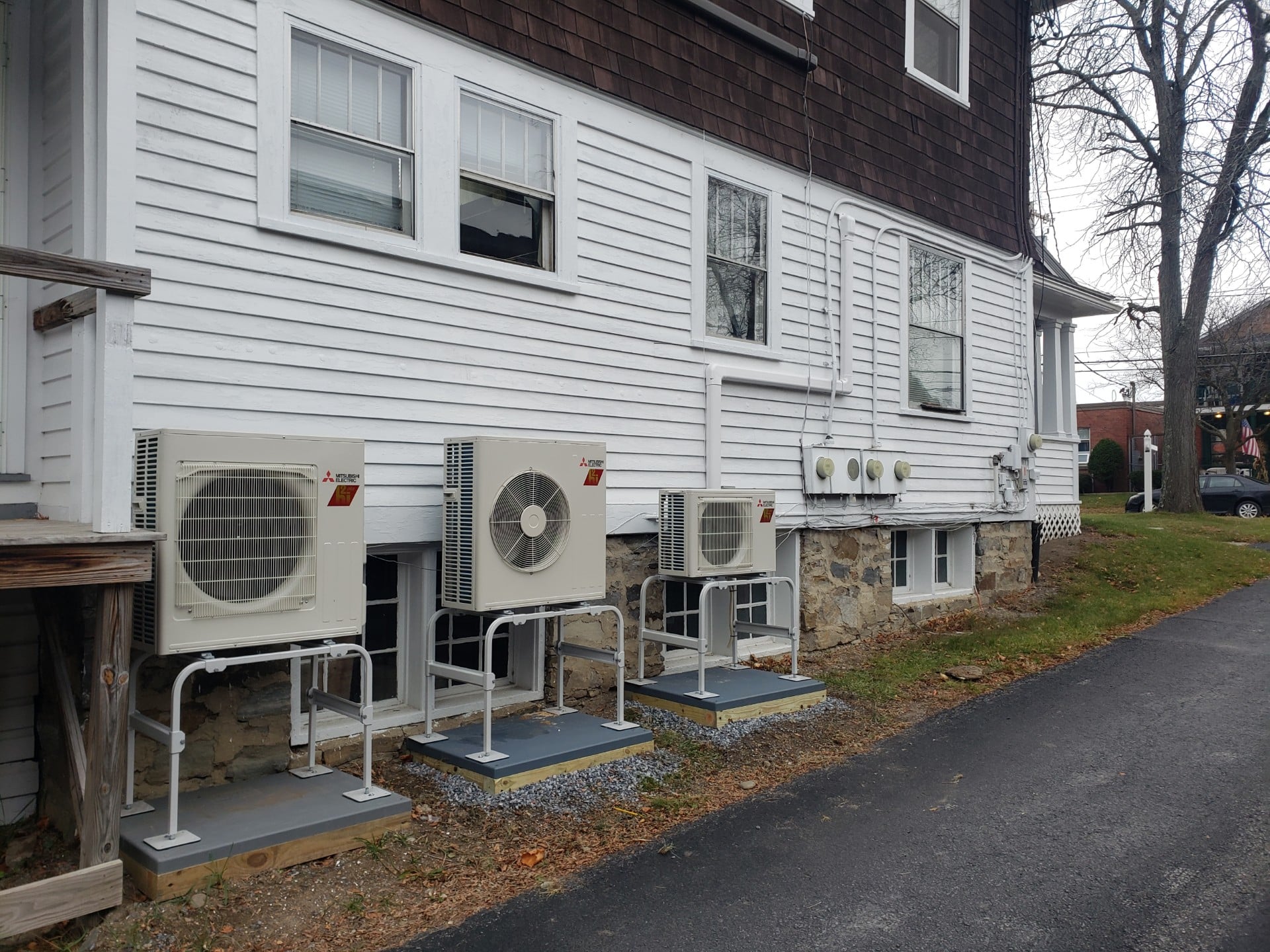 Air Source Heat Pumps for the Homeowner
February 19, 2023
How much does an air source heat pump cost?
An air source heat pump on average will cost between $3,500 and $5,700 for each indoor air handler unit you plan to install in each room (or zone). Total installation of a ducted central air source heat pump system can cost between $10,500 and $18,975. It will largely depend how many indoor units you need, home size, and if you need ductwork replacement or installation. Sometimes additional electric work is needed as well so this can increase the cost a bit more. Keep in mind that Superior Co-Op HVAC installers will always make sure that everything in your home needed for the air source heat pump to function is up to code.
What is an Air Source Heat Pump?
An air source heat pump is a highly efficient heating and air conditioning systems that can deliver one to three times more heat than the electricity they consume. Their efficiency stems from their ability to move or transfer heat from the air versus traditional systems, which must convert it from a fuel source.
Until recently, air source heat pumps were used primarily in the southern regions of the United States due to homes with mild climates that don't need huge heating capabilities. However, advances in the technology have allowed heat pump units to offer a viable space-heating alternative in colder regions of the country versus electric resistance, or gas and oil furnace heat systems. An air source heat pump can work on its own or by also working along side a gas furnace unit. Because the air source heat pump system assumes some of the heating load, the backup furnace system operates less frequently which increases overall efficiency of your home and reduces energy consumptions and costs substantially.
When deciding to install an air source heat pump, you have two options. If you have existing ductwork in your walls and attic, you can easily replace your current HVAC system with a central ducted air source heat pump.
If you will need to install ductwork and vents in your home, it may be more affordable to install a ductless mini split heat pump system instead. A ductless heat pump doesn't need your home to have ducts or vents to heat or cool your home. However, you will have to plan certain zones and get a heat pump that can handle your cooling and heating needs. Air source heat pumps are much more affordable than installing a geothermal heat pump type.
Central Ducted Air Source Heat Pumps
A ducted air source heat pump incorporates a circuit of air ducts and vents that circulate and transport conditioned air throughout the structure and back to the system. Ducted systems are most often used in new construction or when replacing outdated equipment in homes that already have a duct system in place.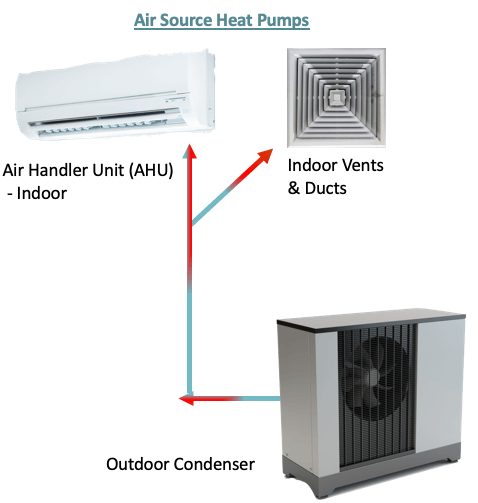 Ductless Mini Split Air Source Heat Pumps
Ductless mini split heat pump systems offer broad versatility, as they require zero ductwork. A simple, three-inch hole bored through an exterior wall is the only home modification required. The hole is necessary to provide access for the copper suction lines, drain line and wiring between the two components. Ductless systems are ideal for room additions and garage applications where a separate heating or cooling system might be desirable. They also offer a convenient way to increase or supplement existing heating and cooling in areas of your Capital Region of New York home that may be lacking.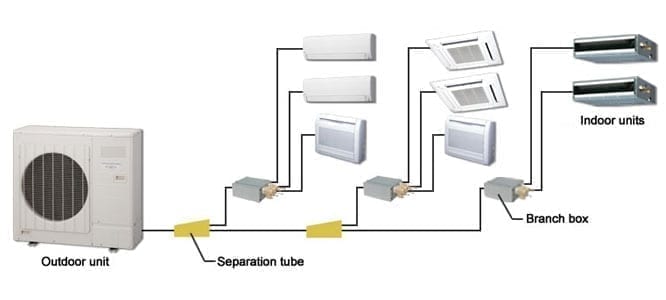 Heat Pump Labor Installation Costs
For labor costs, you can expect most heat pump installers to charge anywhere from $68 to $175 per hour. This will largely depend on the amount of contractors it takes to complete the job and the competitive local installation service rates that are common for HVAC contractors in your area. Expect the average heat pump installation to take up to 20 hours for a brand new system with ductwork. It could take much less time to install if you are simply replacing a heat pump system or repairing your current one.
Comfort and energy efficiency are the biggest advantages of a new air source heat pump system. But if your heat pump unit is installed incorrectly or isn't the right size, you won't experience either of those benefits.
Unless you are a builder or remodeler, it's worth hiring a ductless air conditioner installer with the right tools in their belt. The contractor has to lay concrete for the outdoor unit, cut a hole in the exterior wall, run the electrical lines for the conduit, and perform other tasks as needed, such as getting rid of some of your current system's components. Expect to pay between $1,300 and $2,000.
While you may be tempted to settle for the best price for a heat pump installation regardless of specific experience, remember that ductless heating and cooling systems are still a niche market in the U.S. You may have to hunt a little for the right contractor, so don't settle for someone you're not sure will do a good job just because they offer the best price.
What Size Air Source Heat Pump Do I Need?
Depending on the size of your home or the rooms you are needing to cool and heat, you'll want to install an air source heat pump that has the ability to efficiently maintain your home's temperature. For a 400 square foot area needing to be cooled or heated you would want an air source heat pump able to produce 9,000 BTU's. You can see our full chart for room size and BTU capabilities needed below:
Ductless Heat Pump Size Needed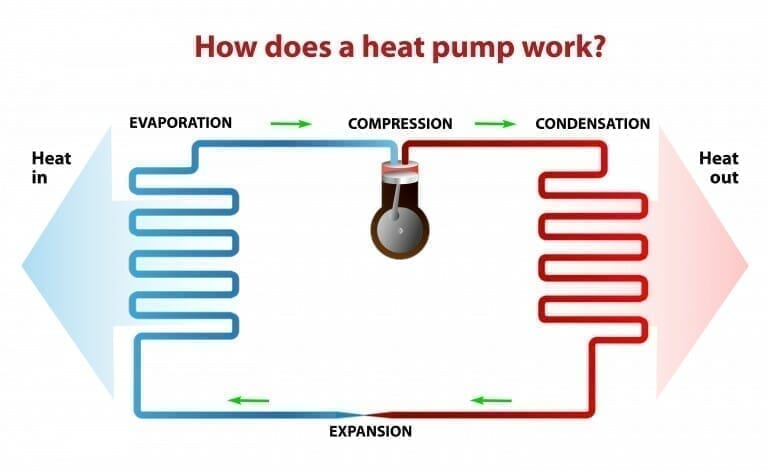 What does an air source heat pump do?
An air source heat pump sometimes referred to as an air-to-water source heat pump transfers heat from the outside air to water, which heats your rooms via radiators or underfloor heating. It can also heat water stored in a hot water cylinder for your hot taps, showers, and baths.
Is installing air source heat pump worth it?
Air source heat pumps are absolutely worth the investment, especially with the introduction of the Cold-Climate heat pump technology.
Do heat pumps use a lot of electricity?
Heat Pumps will raise your electricity bill – but lower your costs for other heating fuels. Each single unit (often referred to as a one-to-one) heat pump that is used daily will increase your electricity bill by $100 to $150 per month.
Residential heat pumps are the industry's workhorses of the heating and cooling sector. Heat pumps serve as both a heater and air conditioner, making them ideal for homes that need year-round climate control but don't want to invest in a separate heating and cooling system.
Many people have yet to learn about the benefits of heat pumps, despite their increasing popularity. Superior CO-OP HVAC pros break down the ins and outs of heat pumps for you.
What is the mechanism of action of heat pumps?
Let's begin with the basics of how a heat pump system operates. For year-round comfort, heat pumps can be used to both cool and heat the home via a refrigeration cycle. In the summer, electric heat pumps remove excess heat from indoor spaces in the same way as central air conditioners do. The evaporator coil acts as a heat sink, and the refrigerant moves the heat it absorbs to the outdoor condenser unit, where it is dissipated. The compressor will keep cycling until the desired indoor temperature is reached.
In contrast to more conventional heating methods like gas furnaces, heat pumps have a unique approach to the task of keeping homes warm in the winter. Heat pumps are energy-efficient alternatives to conventional heating systems because they use the opposite refrigeration cycle to draw heat from the air outside and move it inside. There is enough thermal energy to adequately heat homes even when temperatures are low.
Heat pumps are a common choice in upstate New York, due to their ability to cool and heat a home, their low noise levels, and their high efficiency. Compared to combustion heating systems, they are more eco-friendly and require less maintenance.
WHAT IS THE AVERAGE LIFE OF A HEAT PUMP?
As a result of their constant use throughout the year, heat pumps tend to wear down more quickly than their furnace and air conditioning counterparts. Between 10 and 15 years is the typical lifespan for these animals.
The two most essential aspects in determining a heat pump's lifespan are how often it is used and whether or not it is maintained regularly. Maintenance for heat pumps should be performed twice yearly, in the spring and fall.
Your HVAC specialist will inspect and clean various parts of the system during a maintenance visit. They will also check for and fix any minor problems that could become costly in the future.
Keep in mind that your heat pump will last longer and perform better for many years if you perform routine maintenance on it.
SYMPTOMS THAT IT'S TIME TO CHANGE YOUR HEAT PUMP
If your current heat pump is between 10 and 15 years old and you're wondering whether you should replace it to prevent an unexpected breakdown, there are a few things to keep an eye out for.
THE RISE IN ENERGY PRICES
Is there no weather-related explanation for your unexpectedly high energy costs? Your home will take longer to heat or cool as your heat pump ages and loses efficiency. Because of this, heating and cooling expenses rise because the system runs for longer.
ONGOING MAINTENANCE
It is more cost-effective to invest in a new heat pump if repairs are frequent and the unit is older than 10 years.
BAD AIR QUALITY INSIDE
To maintain comfortable humidity levels in your house, heat pumps serve a dual purpose by both heating and cooling the air. Your heat pump isn't doing its job properly if the air in your home feels stuffy. Mold and mildew are two examples of what might happen when humidity levels rise.
DIFFERENT SOUNDS
When not in use, they don't make a lot of noise and can be used without disturbing anyone else in the house. It's important to get to the bottom of any screeching, buzzing, or grinding sounds. There may be a missing or broken part in your heat pump, or the unit could just be broken.
DISCUSSION OF OTHER ISSUES
Uneven temperatures throughout the house, chilly air coming out of vents even when the heat is on, and a constantly tripped circuit breaker are all signs that your heat pump system may be on its last legs.
The definition of what an Air Source Heat Pump Is!
Air source heat pumps (ASHPs) are a type of heating and cooling system that use the outside air as a source of heat during the winter and a source of coolness during the summer. They work by absorbing heat from the outside air and transferring it into the building to provide warmth. In the summer, the process is reversed and the system removes heat from the building to provide coolness. ASHPs are considered a renewable energy source because they use the natural heat from the air rather than burning fossil fuels. They are also highly efficient, making them a cost-effective option for both residential and commercial buildings.