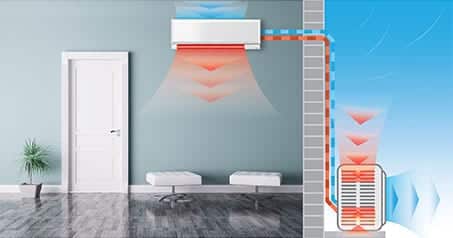 Air Conditioner Heater Combo
May 22, 2022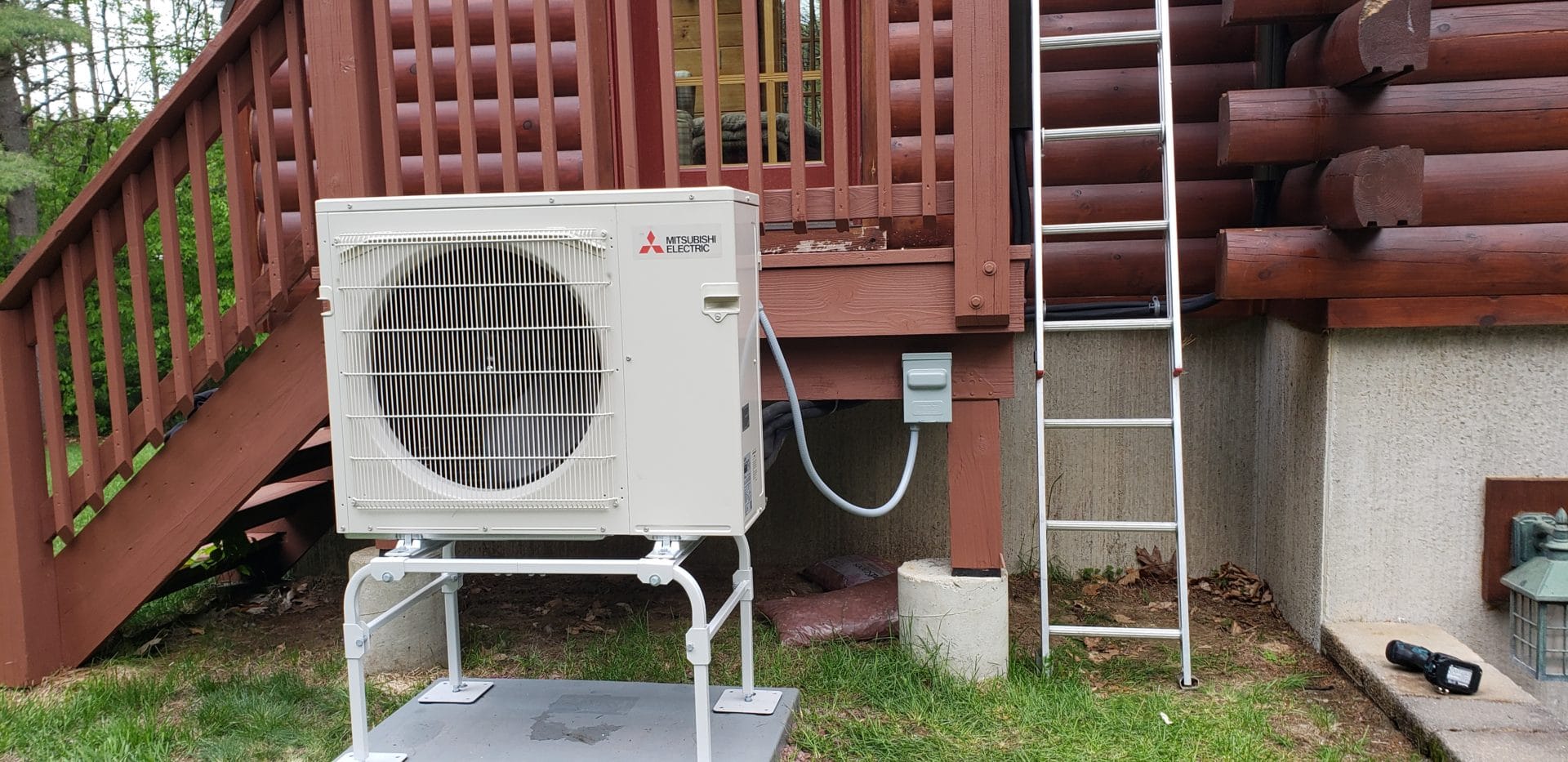 Mitsubishi Hyper Heat
September 2, 2022
NYSERDA, NYSEG & National Grid Rebates on Cold Climate Air Source Heat Pumps 2022
UPDATE: Similar or increased rebates are available for 2020 – Contact us for details.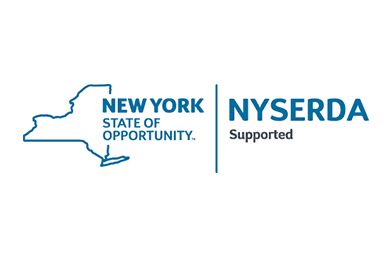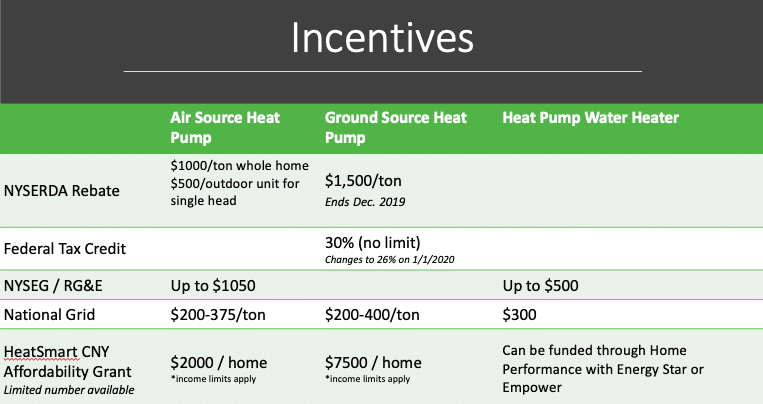 Why Switching to Renewable Energy is Worth It
Not only will you save an enormous amount of money over the years in smaller heating and cooling bills, right now NYSERDA, NYSEG & National Grid are giving large Rebates on Cold Climate Air Source Heat Pumps.
Federal
Under the Bipartisan Budget Act of 2018, the renewable energy tax credits for fuel cells, small wind turbines, and geothermal heat pumps now feature a gradual step down in the credit value, the same as those for solar energy systems.
Tax Credit: 
30% for systems placed in service by 12/31/2019
26% for systems placed in service after 12/31/2019 and before 01/01/2021
22% for systems placed in service after 12/31/2020 and before 01/01/2022
Expires:  December 31, 2021
New York State – NYSERDA
Air Source Heat Pump Rebate
As of April 2019, NYSERDA is offering $1000/ton for "whole home" cold climate systems that meet 90-120% of a home's heating needs. Ask your installers about this incentive! What will change in 2020 we are not sure of so we HIGHLY suggest getting in touch with us now for a full break down of all your incentives and to get a free estimate. Contact Us
Assisted Home Performance with Energy Star pays for 50% of the costs of energy efficiency upgrades, up to $4000, for households that are at 80% or less of the area median income.
NYSEG and RG&E
NYSEG and RG&E provide incentives up to $1050 for cold climate air source heat pumps and $500 for heat pump water heaters. Visit their incentive page or download their application. A couple of details to note: 1) this is retroactive to the beginning of 2019, and 2) if you have multiple single-zone systems installed, according to NYSEG's energy efficiency hotline, simply submit an application for each one.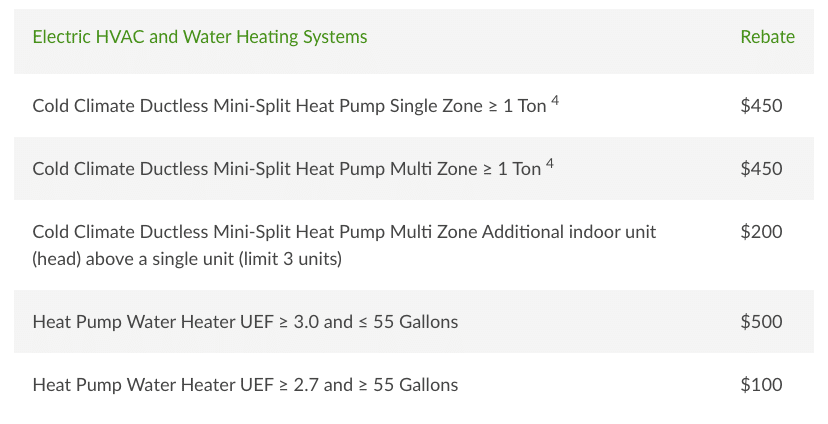 Financing
With proper financing, households on oil, propane, and resistance electric can realize significant out-of-pocket savings on their annual energy costs from day one.  It is always cheaper overall to pay upfront, but not everyone has the luxury of doing so.  Here are options to consider: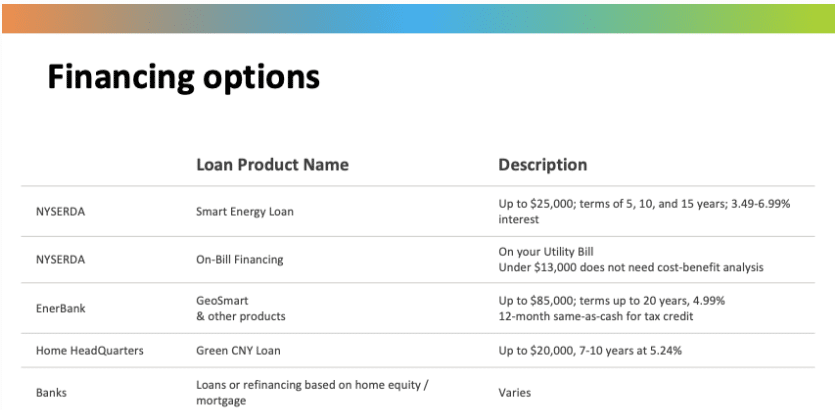 Rebates & Incentives Slowly Dropping in Value After 2019
The bottom line here is when you get a new Cold Climate Air Source Heat Pump before 2020 you will get the maximum incentive and rebates from all sources.
When we come out to do a free estimate on your home or business we will give you an entire break down of what you will receive along with your estimate. These incentives, rebates and financing options make it easier than ever and more cost-effective than installing a traditional heating system. These systems include air conditioning and both heating & cooling your home or business will cost less than ever before imaginable.