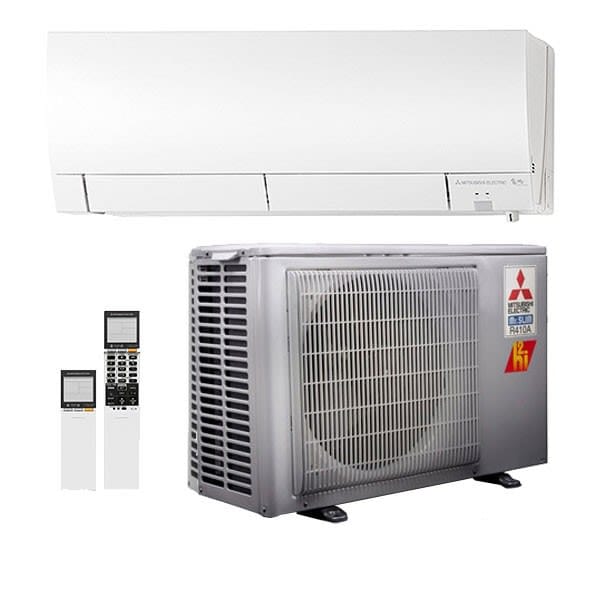 Mitsubishi Hyper Heat Mini Split Reviews
September 12, 2022
Ductless Heating and Cooling Systems
The time is now to start investigating the benefits and expense reductions by using Ductless Heating and Cooling Systems. You've seen them in hotels and other large businesses. They're those quite little blowers on the wall pushing heat and/or cold air into the hotel room or business. The reason why these businesses use these Ductless Heating and Cooling Systems are because they are very cost-effective.
Zoned Home Heating and Cooling Control
Zoned heating and cooling allows you to fully control what rooms are heated and cooled based on need. As we all know traditional systems are 100% ON or 100% OFF. This has and is a massive waste of resources and money. Less than half of your home needs to be heated or cooled at any given time, so why spend all that money heating and cooling the entire home? Ductless Heating and Cooling Systems allow you to manage your homes heating and cooling system directly from your smartphone application.
Ductless Heating and Cooling Systems rely on renewable energy and no fossil fuels. How amazing is that? Cheaper, full home control, renewable energy and to top it off there are huge government rebates and finance programs.

Superior Co-Op HVAC Goals
Here at Superior Co-Op HVAC we can certainly maintain your current systems, install new ones or repair what equipment you have, but we will be talking with you about new technologies. Our goal is not to give some intense sales pitch so you buy one, but rather to educate you on the benefits so you can make a well-informed decision on if it's an option for you.
Our customers are our priority and making sure you understand all your options is important. Traditional heating & cooling systems are simply outdated and cost a fortune to keep running at 100% capacity every time they turn on.
Isn't It Time to Investigate Your Options?
Discovering the benefits of ductless heating and cooling systems is free. Simply contact us for a free estimate and when we come to your home we will explain in depth the pros and cons of all options. It's free so get in touch with us today!
Can a mini split heat a whole house?
Ductless mini-split systems have long been used as an energy efficient and versatile air conditioning solution for situations where supplemental heating and cooling are needed – a home addition, for example. But can a ductless system handle the rigors of heating or cooling a whole house? The answer is YES!
What is ductless heating and air conditioning?
A ductless heat pump or air conditioner typically consists of a wall-mounted indoor unit combined with an outside compressor. It's most often used in a situation where a window AC unit or baseboard heating would be considered, such as a new addition to a house. You consume a lot of energy during compressor start-up.
How big of a ductless system do I need?
When selecting a mini-split system for your home, your sizing consideration should include the size of the room for a single-zone application or each room for multi-zone configurations. For example, if the room is 30 feet long by 40 feet wide, then it would be 30 x 40 = 1,200 square feet.