Heating & Cooling Repair and/or Replace
REPAIR • REPLACEMENT • MAINTENANCE
When you need a Repair, Maintenance or Replacement – Superior Co-Op HVAC has the Experience you can TRUST!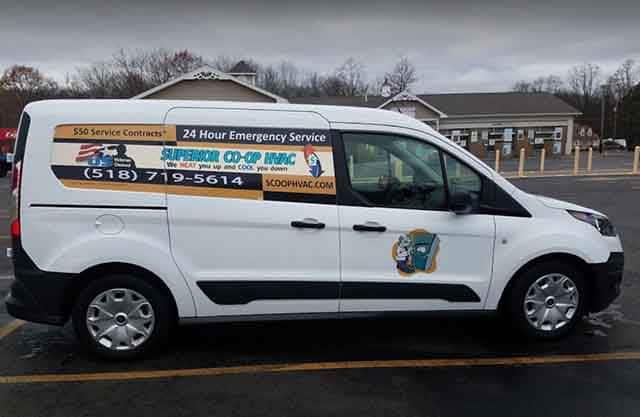 Call Superior Co-Op HVAC for furnace, air conditioning, hot water heater or pool equipment repairs and/or replacements. We also specialize in air source heat pumps which are fossil free systems that lower your utility bills all year long.
Our service area includes the entire Capital Region of New York, including areas north into Washington & Warren County.
We all know that the HVAC system is the lifeblood of the home here in the Saratoga, Troy or Albany region of NY.  With our cold winter and humid summers here in the northeast, we know that our homes HVAC system can help us stay comfortable, that is until it doesn't.  In the absence of HVAC maintenance this will become a problem much faster!  But no matter the cause, when you find yourself without heat or cooling you know that time is of the essence.  This is the time that you will need to decide to either repair or replace your HVAC system.  Both have benefits and pitfalls, as does any choice you can make in your life so we put together a quick guide to help you make a decision!
Cost vs Benefit – HVAC Repairs
This is a formulaic approach that will give you a rough estimate to help you determine if repairing your HVAC System is worth repairing or replacing.  What you will do is take the age (in years) and multiply it with the cost of repair to your HVAC system.  If the resulting number is less than $5000 then repair may be the better option.  However, if the answer is greater than $5000 then it may be time to take a look at the rebates and prepare for replacement of your system.  So if your system is 5 years old and a repair will cost you $350 then you will see that your result is $1750 therefore we would advise paying for the repair.  Conversely if that same $350 repair is to be done on a system that is 15 years old ($5250) then we are helping you look for current rebates to help you save money on your upcoming HVAC system replacement.
Up and Coming Tech for HVAC
When you look at the systems that are available today in comparison to the ones that were available 20 years ago you see just how much technology has advanced.  Sometimes it is hard to make this call when that 20 year old system is chugging away just fine and this is the first time you have ever had a problem.  We would like to call you attention to the fact that yes, that old system may be working just fine BUT you could save so much more money with a more energy efficient system that will require less maintenance and save you money off your energy bill as well.
Emergencies HVAC Repair/Replacement
When you call us in the middle of the winter on the most brutally cold day of the year, we recognize that you do not have the luxury of waiting for that system to be replaced, no matter how necessary.  It is our pledge and promise that we will do our very best to get your system back up and running until we can get your system replaced for you.  We do wish to point out that this is where preventative maintenance is of a great benefit to you and it an excellent service that we offer to you!  If you are interested in learning more on on how you can save money by starting our preventative service contract then simply click here!
When it comes to making the decision to repair or replace your HVAC system, we know that it is no easy choice.  We do hope that we have given you some great ways to help you make the choice and that these tips make it easier to make the best choice for you and your home situation.  No matter your choice we do hope that you will contact us to help make the repair or replacement of your system with ease!
All Heating Systems

All Air Conditioning Systems

Hot Water Heaters

Pool Equipment
HVAC Repair – Replace & Maintenance in the Capital Region of New York
We have been servicing, repair & replacing heating and cooling systems in the Capital Region for a number of years. We are one of only a few Mitsubishi Diamond Contractor Elites in the area and pride ourselves on properly servicing, repairing and replacing our communities' HVAC systems.
Amazing customer reviews on Google from:
Albany, NY – Clifton Park, NY – Saratoga Springs, NY – Queensbury, NY – Cambridge, NY – Washington County, NY and all surrounding areas of these great communities.