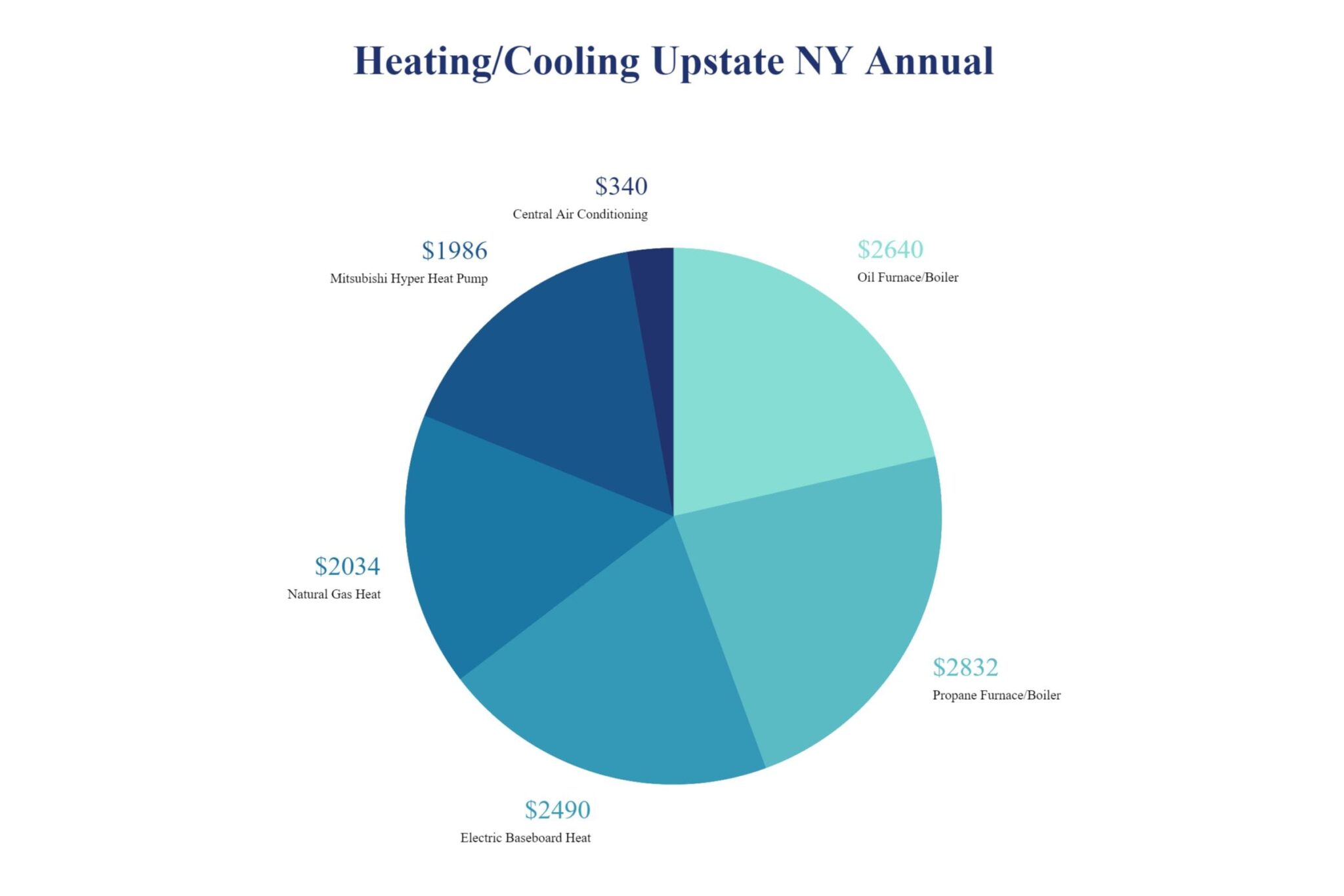 How much does it cost to use Mitsubishi Hyper Heating?
March 31, 2023
Experience Ultimate Comfort with Mitsubishi Mini Splits
Understanding Mitsubishi Mini Splits
What is a Mitsubishi Mini Split System?
Mitsubishi, the world's top HVAC (Heating, Ventilation, and Air Conditioning) manufacturer, offers a variety of micro split systems. They're designed to meet diverse requirements for residential customers. A Mitsubishi Mini Split System is an example of a ductless heating and cooling system. Its key components are split between the interior and exterior of the house, hence the term "split" system.
Inside and Outside Components
The indoor unit, which houses a fan and an evaporator coil, delivers conditioned air directly to the living area.
The outdoor unit, housing the compressor and the condenser, is placed outside the structure.
The two units are connected by a small bundle of cables, including a power cable, a refrigerant line, and a condensation drain line. The installation requires only a small hole to be drilled in the wall, making it simpler than traditional HVAC systems.
Benefits of Mitsubishi Mini Splits
Mitsubishi Mini Splits are known for their energy efficiency, quiet operation, and adaptability. They offer zoned comfort, allowing you to condition specific areas or rooms independently, unlike central HVAC systems that condition the entire house at once. This fine level of control over building temperature leads to increased comfort and decreased energy use. These systems can be used for cooling, heating, or both simultaneously. They are a popular choice for constructing additions, retrofitting older homes without ductwork, and renovating buildings where ductwork installation would be challenging or undesirable.
Why Choose Mitsubishi Mini Splits?
Mitsubishi Mini Splits are favored for their top-tier performance, reliability, and advanced features. Here are some reasons to go for Mitsubishi Mini Splits:
Energy Efficiency: These systems use inverter-driven compressors that adjust system output based on the current temperature, optimizing energy use and lowering energy bills.
Zoned Comfort: The ability to set different temperature zones in your home not only boosts energy efficiency but also enables greater personalized comfort.
Quiet Operation: Mitsubishi Mini Splits are designed to be as quiet as possible, ideal for creating a serene home environment.
Easy Installation: With no need for ductwork, installing a Mitsubishi Mini Split is quicker and less laborious than traditional HVAC systems.
Advanced Filtration: These systems come with multi-stage filtration systems that help eliminate allergens, pollutants, and odors, improving indoor air quality.
Popular Mitsubishi Mini Split Models
The M-Series from Mitsubishi is versatile and affordable, making it an excellent choice for single-room or whole-house solutions.
Mitsubishi's Hyper-Heating INVERTER (H2i) models deliver excellent heating performance even in extremely cold conditions, making them perfect for places with harsh winters.
The Designer Series from Mitsubishi offers a modern, streamlined aesthetic that can match your home's decor.
Professional Installation for Peak Performance
Getting a professional to install complex systems like Mitsubishi Mini Splits provides several key benefits for maximum operation:
Expertise: Professionals have the training, knowledge, and experience to correctly install systems as per manufacturer guidelines.
Efficiency: Professional installations are usually faster and more efficient than DIYs.
Optimal Performance: A correctly installed system generally performs better and more efficiently, which can lead to lower energy costs and extended system lifespan.
Damage Prevention: Improper installation can cause damage to the system and your property. Professionals know how to avoid these risks.
Warranty Protection: Some manufacturers require professional installation for the warranty to be valid.
Safety: Some installations involve complex wiring or potentially hazardous materials. A professional can handle these safely.
Compliance: A professional installer will ensure the installation complies with local codes and regulations, as well as any requirements set forth by the manufacturer. This can be important for maintaining the warranty and ensuring the safety and efficiency of the system.
Overall, Mitsubishi Mini Split systems are a practical, efficient, and reliable choice for your heating and cooling needs. While the upfront cost can be more than traditional HVAC systems, the long-term energy savings, comfort, and ease of installation make them a worthwhile investment.
Comparing Mitsubishi Mini Splits to Other Brands
When it comes to ductless heating and cooling systems, Mitsubishi Mini Splits are not the only game in town. Many other reputable manufacturers also produce similar equipment. Here is a comparison between Mitsubishi and some other notable brands in the HVAC industry:
Mitsubishi vs. Daikin
Daikin is another leading brand in the HVAC industry and offers mini-split systems with similar functionality. Both Mitsubishi and Daikin provide energy-efficient, high-quality units with advanced features such as variable speed compressors and built-in heat pumps.
Mitsubishi's systems stand out for their broad range of models, silent operation, and superior heating performance even in extreme cold conditions. Meanwhile, Daikin shines with its integrated smart home compatibility and extensive warranty offerings. The choice between the two often depends on personal preferences, specific needs, and budget considerations.
Mitsubishi vs. Fujitsu
Fujitsu also offers a range of mini-split systems comparable to Mitsubishi. Fujitsu's systems are recognized for their heating capabilities, reliability, and smart system controls. Fujitsu's Halcyon line of mini splits is particularly popular due to its advanced features like a motion sensor that can adjust temperature settings based on room occupancy.
However, Mitsubishi typically takes the lead in terms of energy efficiency and quiet operation. Furthermore, Mitsubishi's H2i technology makes their mini splits perform exceptionally well in extreme cold conditions, a feature not as prominent in Fujitsu systems.
Mitsubishi vs. LG
LG is a well-known brand offering HVAC solutions, including mini-split systems. LG systems are noted for their sleek design, quiet operation, and built-in Wi-Fi for smart control. LG's mini-split systems also come with an energy-saving mode that can help reduce electricity consumption.
On the other hand, Mitsubishi is often recognized for having superior zoned cooling and heating capabilities, enhanced filtration systems, and inverter-driven compressors for optimized energy consumption. Mitsubishi's reputation for durability and quality support services also give it a slight edge over LG in the HVAC market.
In conclusion, while each brand has its strengths, Mitsubishi Mini Splits are often seen as the industry standard due to their blend of efficiency, advanced features, and reputable performance. The final decision, however, should be based on your specific requirements, budget, and the environment you're using the system in. It's also crucial to consider factors such as local climate, installation conditions, and whether the brand's after-sales service is readily accessible in your location.