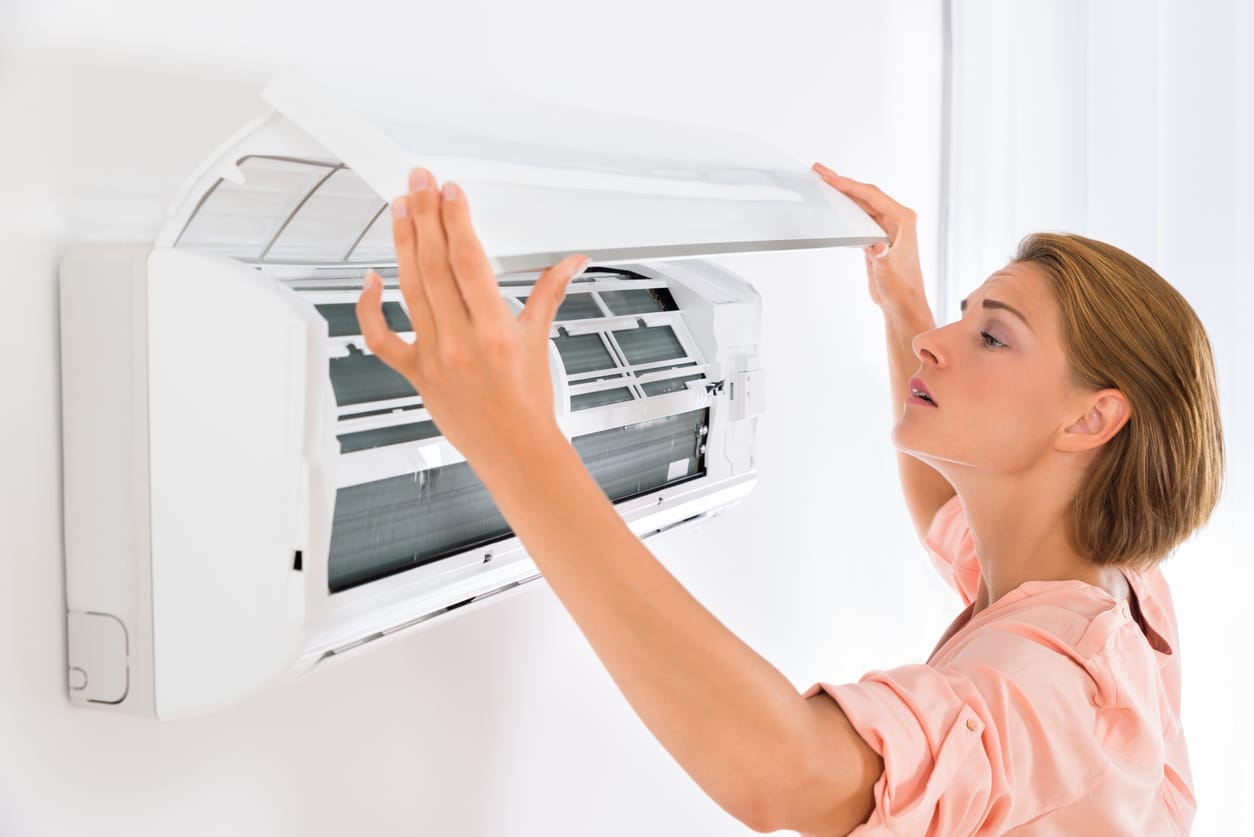 Troubleshooting Common Air Conditioning Problems
July 14, 2023
What's That Funny Smell When the Heat Turns On?
August 25, 2023
How to fix 3 common problems with your air conditioner
It is almost that time of year when working air conditioning is everyone's best friend. We want to make sure that you are ready for the 3 most common problems that we see. Of course, if you do not feel comfortable trying to troubleshoot or fix your unit, contact us and we will be happy to come and take a look at your unit and get it back in proper working condition.
When your air conditioner suddenly stops working, it can be cause for alarm or it can be something as simple as a blown fuse or tripped circuit breaker.
While many problems with your air conditioner will require a professional technician to repair the issue, we find that sometimes a homeowner can fix simple problems with a little troubleshooting.
We have put together the following troubleshooting guide to help you address four of the most common problems you may encounter with your air conditioner.
It is important to note that many common problems with air conditioners can be caused by inadequate maintenance. To help avoid any future issues, we recommend that you get set up on an annual maintenance plan for your heating and cooling systems.
1. Your Air Conditioner Won't Turn On
If your air conditioner isn't turning on, first check your unit outside to determine if the condenser is running. Make sure that the unit is plugged in and your thermostat is set properly.
It sounds simple, but lower your thermostat 5 to 10 degrees and see if that fixes your problem- and make sure your thermostat is set to cool. Our Maintenance Manager, John, points out that many thermostats are tricky and homeowners may be able to save themselves time and money by reading the manual.
Then check to see if a blown fuse or tripped circuit breaker is to blame.
If your air conditioner still will not turn on or your coil is frozen, you may have a problem with your motor or compressor and will need to contact a professional to repair your system.
2. Your Air Conditioner Is Not Cooling the Air
If your air conditioner will turn on, and your thermostat is set properly, but your system is not cooling you may have a dirty or blocked air condenser. Your first step is to check the outside unit and clean around and remove any debris or weeds that are blocking air circulation.
Next, check your filter and make sure it is clean. A lot of times, we find the filter is dirty, and when it restricts the air to the evaporator coil, the coil can freeze. If you have pets or run your a/c often, you may need to change your filter more frequently. A good test is to pull your filter out and check if you can see through it.
If your air conditioner is still not cooling air, you may have a problem with your compressor or refrigerant and will need to contact a professional.
3. Your Air Conditioner Isn't Adequately Cooling Your Home
If your air conditioner is on and set properly but is still not cooling your home to your standards, you may have a unit that is not sized appropriately for your home.
Keep in mind that your system should be sized to keep your home cool on the average summer day. The average system should be able to maintain a 20-25 degree temperature difference between the outdoor and indoor temperature. In other words, your air conditioner is not designed to keep your home at 68 degrees when it is 95 degrees outside.
If it is a normal summer day and your air conditioner still can't keep up, you may have a problem with the charge or a frozen evaporator coil. If you see icing on your outdoor unit, shut it off and call a professional.
This article was originally published at app.com. If you are currently experiencing problems with your air conditioner, be sure to contact us today and we will come help you get back to cooling your home!
Mitsubishi Air Conditioner Not Turning On: Troubleshooting Guide by Superior CO-OP HVAC
Mitsubishi is a renowned brand known for its high-quality air conditioning systems. However, like any electronic device, there may be times when your Mitsubishi air conditioner fails to turn on. It can be a frustrating experience, especially during hot weather.
At Superior CO-OP HVAC, we specialize in servicing Mitsubishi air conditioning systems, and we're here to help you troubleshoot this issue. In this blog post, we'll explore common reasons why your Mitsubishi air conditioner might not be turning on and provide steps to diagnose and resolve the problem.
Common Reasons for Mitsubishi Air Conditioner Not Turning On
1. Power Issues
Tripped Circuit Breaker: Check the circuit breaker to see if it has tripped.
Faulty Power Outlet: Test the outlet by plugging in another device.
2. Remote Control Problems
Dead Batteries: Replace the batteries in the remote control.
Incorrect Settings: Ensure that the remote is set to the correct mode.
3. Thermostat Issues
Incorrect Temperature Setting: Ensure that the thermostat is set to a temperature lower than the current room temperature.
Faulty Thermostat: The thermostat may need recalibration or replacement.
4. Internal Component Failures
Faulty Capacitor or Motor: These components may require professional inspection and replacement.
Troubleshooting Steps
Step 1: Check the Power Source
Ensure that the unit is plugged in and the circuit breaker has not tripped.
Step 2: Inspect the Remote Control
Replace batteries and check settings.
Step 3: Examine the Thermostat
Adjust the temperature settings and check for proper functioning.
Step 4: Listen for Unusual Sounds
Any strange noises may indicate internal component issues.
Step 5: Contact a Professional if Needed
If the above steps do not resolve the issue, it's time to call a professional HVAC technician, such as Superior CO-OP HVAC.
Conclusion: Superior CO-OP HVAC is Here to Help
While some issues can be resolved with simple troubleshooting, others may require professional intervention. Superior CO-OP HVAC's experienced technicians are well-versed in Mitsubishi air conditioning systems and are ready to assist you with any problems you may encounter.
Don't let a non-functioning air conditioner disrupt your comfort. Contact Superior CO-OP HVAC today, and let us restore your Mitsubishi air conditioner to optimal performance.