Ductless Mini-Splits/Air Source Heat Pumps/Mitsubishi Hyper Heat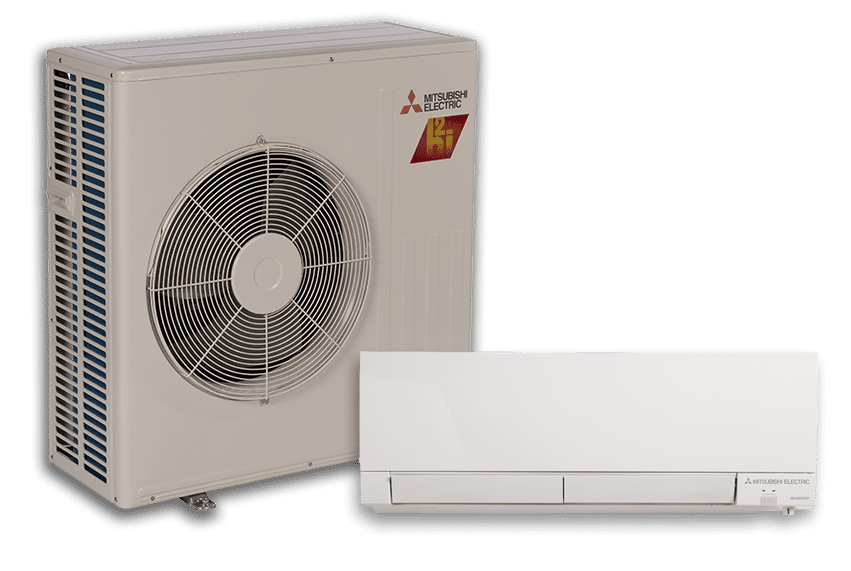 We believe that Heat Pumps/Ductless Mini-Splits are the modern savior we are all looking for.  Besides the reduced energy cost that comes with owning a cold climate heat pump system you can:
Heat or cool that room or addition that is never the right temperature
Fire that bulky window unit that is all noise and inefficiency that blocks your view outside
Add modern comforts to your older or historic home without changing it's outward appearance
Introducing HYPER HEATING/HEAT PUMPS – Ask us about it!
A BETTER WAY TO HEAT AND COOL ANY SPACE, ANYWHERE
Mitsubishi Electric's technologically advanced mini-split
air
conditioners and heat pumps can provide superior comfort, lower energy costs, zero emissions, and ultra-quiet heating and
air conditioning
in any climate. Learn more by exploring our solutions below.
WHY MITSUBISHI ELECTRIC?
Our heating and cooling technology allows you to enjoy more precise and customizable comfort in one room or your entire home, bringing you:
the efficiency of the fuel-burning system you're comparing to (oil, propane, and natural gas)
the carbon emissions from your state's electricity production
the climate zone you live in
the efficiency rating of our electric heat pumps
the zoning advantages of our heat pumps
As the U.S. increases its focus on reducing carbon emissions, Mitsubishi Electric heat pump systems help you maintain high levels of year-round comfort while decreasing your impact on the environment. They help reduce your carbon footprint by providing sustainable and energy-efficient operation without burning fossil fuels for heating.
In most cases, there's a net positive reduction in GHG emissions with our heat pumps. In states like Maine, recognized as a "low-carbon" state, our heat pumps produce significantly less net carbon emissions than fuel-burning heaters. In addition, during the cooling season, our heat pumps are up to 40% more efficient than conventional air-conditioning systems, so you're significantly reducing your carbon footprint all year long.