What Causes a musty smell from heat pump?
March 13, 2023
Superior CO-OP HVAC Transforms Comfort in Shaftsbury, VT with Mitsubishi Heat Pumps
August 24, 2023
When were heat pumps invented?
The 1st heat pump invented, as we know it today was created by Peter von Rittinger in 1856. He recognized the principle of the heat pump while conducting experiments on the use of water vapor's latent heat for the evaporation of salt brine. As a result, in Austria the heat pump was used to dry salt in salt marshes.
When did heat pumps become popular?
By the late 1960s, when the first Generation X babies were born, most new homes in North America had central air conditioning. It wasn't until the oil crisis of the 1970s that the heat pump became a more popular choice for heating and cooling homes. Heat pumps used a single 'fuel', electricity, to heat and cool a home.
Moving ahead in time to today, you can even heat the water in your pool with a heat pump as illustrated below. Heat pumps now have multiple uses and help in reducing our individual carbon footprints.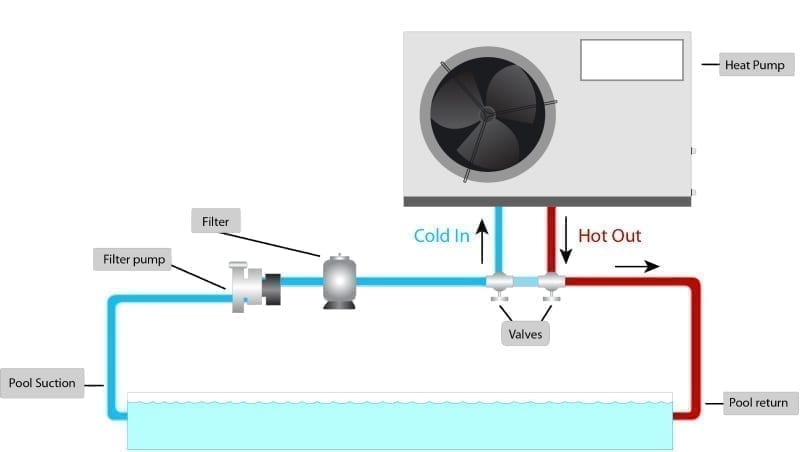 How popular are heat pumps today?
It is estimated that about 140 million heat pumps are working in the world. This evidences
that the equipment conceived by Lord Kelvin back in 1852 has finally penetrated into the market.
Heat Pump Improvements
In the last 20 years the heat pump has improved. The thermal exchange surfaces, the compressor, and the control and defrosting systems. Not only was the COP strongly improved, but also seasonal performances. Further equipment improvements are aimed to better exploit the properties of new refrigerants. Utilizing even the pressure drop between condenser and evaporator, usually dissipated by throttling. Gas driven heat pumps were also improved with higher efficiency i.c. motors and much longer maintenance intervals. Absorption heat pumps are now available in many different models suitable to different applications. Probably most improvements took place with lower heating temperatures and the use of cold sources. More suitable than the outside air, above all surface and underground water, the ground and the recovery in mechanical ventilation systems.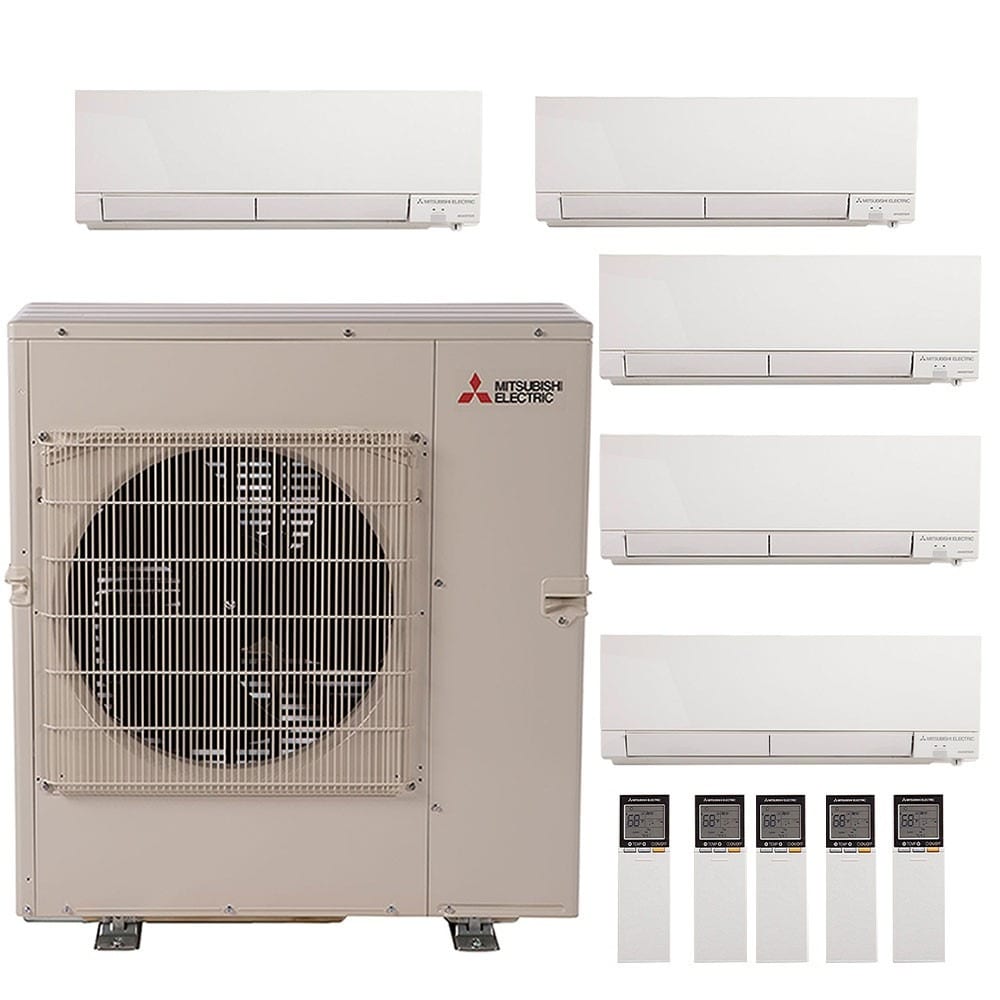 How was the modern day heat pump was invented?
The year was 1948 — a year stuffed with curious activities. A year in which the first tape recorder was sold, Harry Truman was re-elected president and 84-year-old baseball legend Connie Mack challenged 76-year-old fellow legend Clark Griffith to a race — which surprisingly ended in a tie.
It was quite an interesting year to coincide with the creation of something that almost all of us enjoy, and all because one man didn't want to be wasteful.
Trying to improve a deep freeze
While the world turned and events happened, a man by the name of Robert C. Webber was working on a freezer in his cellar beneath his home. Home refrigeration was nothing new and had, in fact, been around for years. You see, Robert C. Webber was looking to improve his electric deep freezer — the kind of freezer so cold you can store meat for years without spoiling.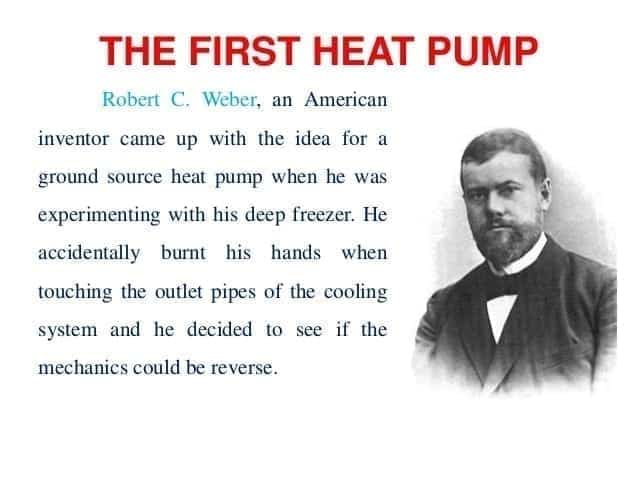 On that day in 1948, though, Robert burned his hand on his freezer. An intriguing incident since the freezer should be displacing cold water, not hot. By hot we're not talking about warm to the touch or lukewarm. Nor are we describing the kind of heat you experience when curled up next to a fireplace on a cold winter morning reading your favorite book, newspaper or Facebook post. This was the kind of heat that boils water and makes you scream out loud when you touch it. The kind of heat where running cold water over it makes it worse and sends you scrambling for aloe vera. Robert discovered that the deep freezer was producing scalding hot water.
Next step: Hot showers
Not wanting to be wasteful, Robert thought about how to use this heat from his freezer. Many ideas came to mind, and when all seemed to fail, he decided to send the hot water to his boiler. As you may have experienced with your own water heater, his boiler could not keep enough hot water flowing into his home for showers and washing hands. Not having enough hot water is an issue all families have encountered, and nothing is more surprising than singing in the shower to your favorite song when the hot water runs out. And you know it ran out because all of a sudden you hear that note — higher than you think is possible — coming from your mouth. So Robert fixed his boiler problem by sending the heated water from his deep freeze in the cellar into his boiler. And, just like that, there were no more cold showers for his family.
But now Robert encountered the issue of having too much hot water. Not wanting to be wasteful, he needed to send the leftover heated, scalding hot water from the boiler somewhere else. As an inventor, his mind worked in ways different than the average American. So he thought and grumbled, drew sketches and mumbled. Finally, he had an idea for the leftover wasted hot water.
How to heat an entire house
Robert ran that leftover boiling water into a coiled copper tube with a small electric fan. The hot water heated the coil and the fan blew and blew. In fact, the fan blew so well it heated his entire home. In 1948, Robert C. Webber created the first electric heat pump by reusing the wasted boiling water from a deep cold freezer.
The following year, Robert replaced the coal furnace in his home, and decades later heat pumps were found all around the state of Tennessee. The water has now been replaced by Freon, and the systems have grown smaller and more efficient. Robert C. Webber inspired a new generation of electrical technology centered around the idea of air conditioning.
The rest, as they say, is history
1948 was a year filled with curious activities, as you may have discovered by now. So as you sit comfortably in your home, office or anywhere indoors with your HVAC system running, you can thank Robert C. Webber for his burned hands and not wanting to be wasteful.
Mitsubishi Heat Pumps Specifically

The Mitsubishi heat pump has a long and fascinating history, from its humble beginnings as a simple cooling system to its current status as a leading provider of energy-efficient heating and cooling solutions. In this article, we will delve into the history, development, and future of the Mitsubishi heat pump.
History Of Mitsubishi Heat Pump Invented:
The Mitsubishi Electric Corporation was founded in 1921, and for many years it was primarily focused on manufacturing and selling electrical appliances. In the 1950s, the company began to develop air conditioning systems, which were becoming increasingly popular in Japan due to the country's hot and humid climate.
The first Mitsubishi heat pump was introduced in the 1960s. It was a simple cooling system that used a compressor, a condenser, and an evaporator to cool indoor air. However, the technology was still in its infancy, and the system was not very efficient.
Development:
Over the years, Mitsubishi Electric continued to invest in research and development, and the Mitsubishi heat pump evolved into a more advanced and efficient system. In the 1980s, the company introduced the first variable refrigerant flow (VRF) systems, which could heat and cool multiple rooms using a single outdoor unit. This was a major breakthrough, as it allowed for greater energy efficiency and flexibility.
In the 1990s, Mitsubishi Electric introduced the Hyper-Heating Inverter (H2i) technology, which enabled the heat pump to operate at low temperatures, making it suitable for use in colder climates. This was a game-changer for the industry, as it allowed the Mitsubishi heat pump to be used for both heating and cooling in a wider range of climates.
In recent years, Mitsubishi Electric has continued to innovate and improve its heat pump technology. The company has introduced new features such as Wi-Fi control, advanced air filtration systems, and more efficient compressors.
Future Predictions:
Looking ahead, the future of the Mitsubishi heat pump looks bright. With the increasing focus on energy efficiency and reducing carbon emissions, heat pumps are becoming an increasingly popular choice for heating and cooling in homes and businesses.
Mitsubishi Electric is well-positioned to take advantage of this trend, with its extensive experience and expertise in heat pump technology. The company has already announced plans to introduce new products and features in the coming years, such as even more efficient compressors and advanced control systems.
In addition, Mitsubishi Electric is committed to sustainability and reducing its environmental impact. The company has set ambitious targets to reduce its carbon emissions and increase the use of renewable energy in its operations.
Conclusion about heat pump invented:
The Mitsubishi heat pump has come a long way since its early days as a simple cooling system. Today, it is a leading provider of energy-efficient heating and cooling solutions, with a long history of innovation and development. As the world becomes increasingly focused on sustainability and reducing carbon emissions, the Mitsubishi heat pump is well-positioned to play a major role in the future of heating and cooling.