Superior Co-Op HVAC of the NY Capital District – 518-719-5614
Superior Co-Op HVAC (Mitsubishi Diamond Contractor Elite) is in the business of taking care of your home. We continue to provide heating, air conditioning, indoor air quality and all other HVAC services to the Saratoga Springs, Capital Region and surrounding areas. Like you, this area is our home and we're proud to be a part of it.
About Superior Coop HVAC
Lots of companies believe in the "one service fits all" approach. We don't. Since every job and situation is unique, we're happy to personalize to meet our customer's needs. No matter the project and no matter the size. When you partner with us, you get a team of highly skilled professionals that are committed to working in harmony in order to bring your project to its full potential. You have any general questions or concerns about home repairs you need, or more specific questions about HVAC, heating, plumbing, air quality or electrical services, please contact us and we'll provide you with a free quote.
Heating - Cooling - Pools
Capital Regions Mitsubishi Diamond Contractor Elite
We will meet or beat any other Mitsubishi Diamond contractor estimate.
Must show other in writing estimates.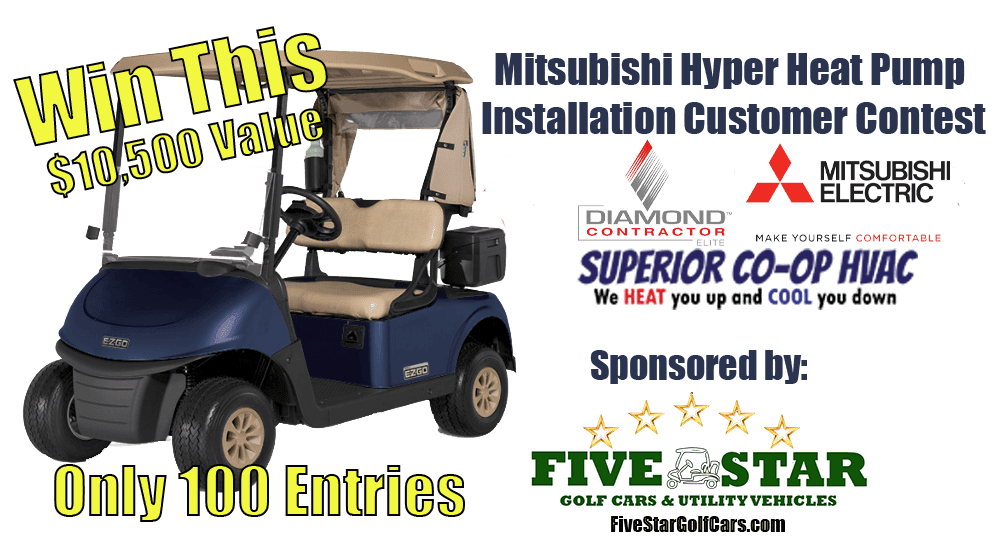 Mitsubishi Hyper Heat Pump Installation Customer Contest
The 1st PRIZE is E-Z-GO RXV Elite Series golf cart ($10,500 Value) is a battery maintenance free golf cart. With fast charging and long battery life this golf cart reduces the use of acids and saves money on electricity to charge it. This is a perfect match for our  customers who are reducing their Independence on traditional fossil fuels for heating & cooling.
Every installation of Mitsubishi Hyper Heat Pumps systems will get a free ticket to win this RXV Elite golf cart. Purchase & installation from Superior Co-Op HVAC must be within the contest dates. Only 1 ticket per address of installation.
We will come evaluate your home or business and calculate the different options, equipment & financing available for you!
Call for FREE Quote
Get Pre-Approved for Financing in Minutes
Multiple finance options to choose from along with multiple types of rebates available, further assisting in reducing the cost of a new Mitsubishi Heating & Cooling system that will dramatically reduce your monthly expenses.
Our Mission
Our mission is to better educate local home owners and business owners of some of the newest technologies available for heating and cooling. Yes, we install, maintain, service and repair tradition hot air furnace and air conditioning units, but we also provide knowledge on fossil-free heating and cooling equipment now available. Many people in the Capital Region of New York are forced to use oil or propane and while others enjoy the less expensive option of natural gas. There are also several of you out there that use pellet stove or wood stoves to heat your home. Portable & window air conditioners are also all popular options during the hot summer months while some of you have separate whole home air conditioners.
Our Experience
Superior Co-Op HVAC is an innovative heating & cooling company with years of experience in traditional and new HVAC equipment for your home or business. Above you will see our services map with markers of our past services completed. This is a unique way of seeing where we have been and what we have done. It also is confirmation on how many of your local neighbors have trusted us with their heating and cooling needs. We also service pools, pool heaters as well as water heater installation, repair and maintenance. Just click on a marker to see what we have done at that location. Many of these locations locally have many services or installations we have done but we only list what we initially went there for.
Residential & Commercial Heating & Cooling
Did you know that you can have 1 system that heats and cools your home or business without the use of fossil fuels? There are rebates, incentives and financing options available for these systems that are not offered with traditional HVAC equipment. Did you know these systems are not only "green" but they cost up to 75% less to operate? We invite you contact us for a free estimate and survey of your home or business for these new technologies.
Office Location:
Superior Co-Op HVAC Heating & Cooling – Mitsubishi Contractor Elite
2531 State Route 22
Cambridge, NY 12816
Phone:
Hours of Operation
Sunday Closed
Monday 7:30 am–4:30 pm
Tuesday 7:30 am–4:30 pm
Wednesday 7:30 am–4:30 pm
Thursday 7:30 am–4:30 pm
Friday 7:30 am–4:30 pm
Saturday 7:30 am–1:00 pm