ALL-IN-ONE Heating & Cooling System Saves Thousands with Thousands in Rebates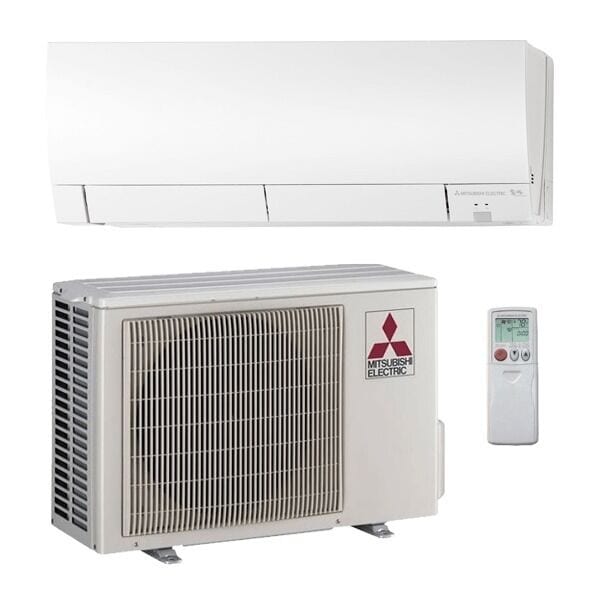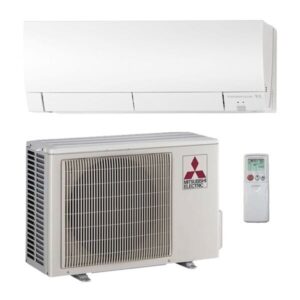 A Mitsubishi Hyper Heating System will reduce the costs of heating & cooling your home or business by thousands annually. This ALL-IN-ONE heating & cooling system is fossil free and comes with some amazing government sponsored rebates and finance options.
Imagine using your tax refund along with the NYSERDA rebates currently available to save thousands on a new fossil free Mitsubishi Hyper Heating and Cooling system that reduces your costs annually by thousands! Sounds to good to be true, doesn't it? The time has never been more perfect than now to look at going fossil free & saving on all HVAC desires. These systems have cutting technology in regards to smart home control as well. You can control everything from your mobile device based on zones. There is no more need for your heating & cooling system to be running at 100% capacity for your entire home or business.
Detailed info on Mitsubishi Hyper Heating & Cooling
Purchases & Installations of Mitsubishi Hyper Heating & Cooling Systems From Superior Co-Op HVAC Enters You to Win a E-Z-GO Elite Series Golf Cart – 100 Entries ONLY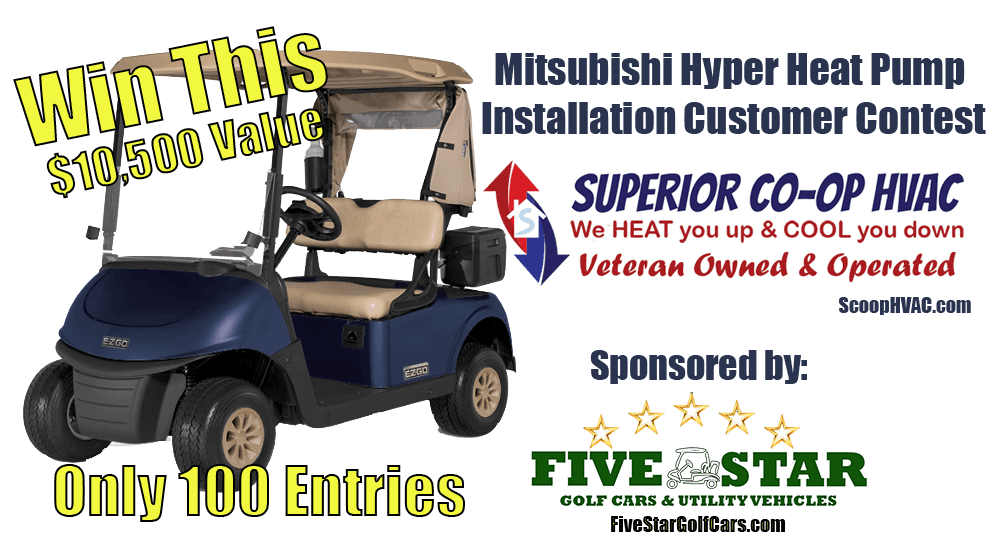 Superior Co-OP HVAC has partnered with Five Star Golf Cars & Utility Vehicles in offering our Mitsubishi Hyper Heating installation customers a chance to win a golf cart that will reduce your carbon footprint and reduce the use of electricity with it's lithium battery technology. These batteries are acid free and maintenance free. They also charge faster and last longer than traditional electric golf carts.
Perfect for the carbon imprint conscious people who also see the value in heating and cooling their homes with fossil free technology that performs for less money than the traditional furnace and air conditioning systems. Detailed Info on this Contest
2nd Place Winner will receive $2500.00 towards a dream vacation.
3rd Place Winner will receive a $500.00 gift cars.
Special Financing Available for Mitsubishi Hyper Heating & Cooling (All-in-one) Systems
The main thing people love about getting financing for a Mitsubishi Hyper Heating & Cooling system is that 100% financing is available with no down payment required. This along with special finance programs through the state of New York and Vermont financing can get you saving money sooner than later. In most cases the money you save can actually pay your payments.
Conclusion
Reducing the cost of a Mitsubishi Hyper Heating system by thousands along with 100% financing will get your installation in progress. Once installed you will enjoy thousands in savings in the costs for heating and cooling with this all-in-one system that is fossil free.
Now that you are saving thousands annually, have not paid any down payments and have rebates from the Government we have that last but not least final benefit which is your chance to win an E-Z-GO Elite Series golf cart sponsored by Five Star Golf Cars & Utility Vehicles.
We'd love to hear from you! Let's get the process started, it is easier and faster than you think. So give us a call or contact us via the form below.
Please feel free to call us, visit our offices, or send us a message below.
Phone Number Format: 5556667777